MCI (Meal, Combat, Individual) 1980 Case Review
One of the MREInfo.com forum members, mreheater72 from Germany, has quite a collection of rations as you can tell from the picture below: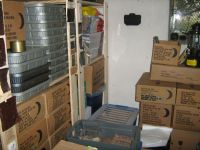 One particular thing in his collection is a case of MCIs (Meal, Combat, Individual) that was packed in 1980. This was the last year that MCIs, also affectionately known as combat rations, c-rations, or just plain "c-rats", were produced. mreheater72 decided to take us on a tour of what the contents of this case looks like now, 27 years after they were packed. This review originally occurred in May, 2007.
Note: the only ration parts out of sync with these pictures are the B-Units and some of the cakes/nut rolls. The pictures of most of the cakes and nut rolls are from a case of mreheater72's 1979 MCIs. He didn't have any pictures of the contents of the B-Units so I took some pictures of some 1979 B-Units from my collection. So the B-Units and pound cakes/nut rolls you see in the following pages are 28 years old while everything else is 27 years old.
---
My Newest Treasure: 1980 Case of MCIs
Author: mreheater72
Date: May, 2007
Hi guys,
Here I want to show my newest treasure:
MCI 1980 Complete Menu – Click on a menu to go to a page with full pictures
Menu 1
Menu 2
Menu 3
Menu 4
Beef w/Spiced Sauce
Halved Apricots
Peanut Butter
B-1 Unit – crackers, candy
Tuna Fish
Fruit Cocktail
Peanut Butter
B-1 Unit – crackers, candy
Ham and Eggs, Chopped
Quartered Pears
Peanut Butter
B-1 Unit – crackers, candy
Pork, Sliced, Cooked with Juices
Applesauce
Peanut Butter
B-1 Unit – crackers, candy
Menu 5
Menu 6
Menu 7
Menu 8
Beans w/Frankfurter Chunks in Tomato Sauce
Blackberry Jam
Fruitcake
B-2 Unit – crackers, cocoa beverage powder
Beef Slices and Potatoes w/Gravy
Pineapple Jam
Pound Cake
B-2 Unit – crackers, cocoa beverage powder
Spaghetti w/Beef Chunks in Sauce
Apricot Jam
Cinnamon Nut Roll
B-2 Unit – crackers, cocoa beverage powder
Beans w/Meat Balls in Tomato Sauce
Pineapple Jam
Chocolate Nut Roll
B-2 Unit – crackers, cocoa beverage powder
Menu 9
Menu 10
Menu 11
Menu 12
Beefsteak
Sliced Peaches
Cheese Spread, Hickory Smoke
B-3 Unit – crackers, candy
Chicken or Turkey Boned
Cheese Spread, Cheddar Plain
Applesauce
B-3 Unit – crackers, candy
Ham, Sliced, Cooked with Juices
Cheese Spread, Caroway
Applesauce
B-3 Unit – crackers, candy
Turkey Loaf
Cheese Spread, Caroway
Quartered Pears
B-3 Unit – crackers, candy