MREs (Meals, Ready-to-Eat) were first introduced for use in the US military in 1981. Since then, the original simple brown MRE bag has undergone two major and several minor updates. The first major update occurred in 1996 and changed the color of the bag from dark brown to a tan color and introduced new bag graphics. Then in 2008, three new graphic designs for the MREs were set to be introduced while the bag color remained the same.
MRE Bag Design Changes
Here's a timeline of the changes to the MRE bags::
1981: Original MRE bag introduced
1988: Large menu numbers added to the sides of the MRE bags
1995: Last year the dark brown MRE bags used
1996: New tan bags, fonts, and graphics introduced
2001: Two notices added to the bags: "U.S. Government Property" and "Commercial Resale Is Unlawful"
2003: New notice added to the bags: "Flameless Ration Heaters Are Prohibited On Commercial Airlines Unless Sealed In Original MRE Menu Bag"
2007: Last year for the old graphics
2008: Three new graphic designs introduced for MRE bags. Bag color remains tan.
MRE Bags Over the Years
| | | |
| --- | --- | --- |
| 1981: First MREs | 1982 | 1986 |
| | | |
| 1988: Menu numbers added to side | 1991 | 1995: Last year for brown bags |
| | | |
| 1996: New bag color, design | 2001: Govt. Property, Resale notices | 2007: Last year for current design? |
| | | |
MRE Bag Design Specifications
Each year, the Defense Supply Center, Philadelphia (DSCP) publishes a new set of specifications for the production and packaging of MREs. These specs are called "Assembly Contract Requirements" or ACRs. Inside each ACR is a design of how the MRE bag is supposed to look. While color codes and spacing are specified, exact fonts to be used are not.
Here are a few of the most recent ACR specs for MRE bags:
A note about Ameriqual:

Of the three major MRE manufacturers, Ameriqual is the only one who does not produce an MRE bag according to the ACR secs.
The picture underneath shows an Ameriqual MRE next to a Sopakco MRE. Notice how it has a repeating bag design, not just a single design per bag.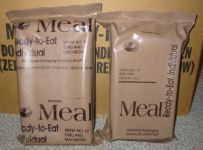 New 2008 MRE Bag Designs
In 2006, the US Army Natick Soldier RD&E Center began evaluating new graphic designs for the MRE bags. They started off with 18 new designs and weeded that list down to 9 designs. Further review brought the list down to 5 designs (as seen in "Design Testing" below) and those designs were "field tested" with soldiers to see which ones they preferred. Natick finally picked the three best designs and decided to use all three in the new MREs.
In the 2008 Assembly Contract Requirements, the DSCP specifies these three new graphic designs for the MRE bags. Each design will be on four MREs in each case. You can see the breakdown of the designs and which menus they will be on below:
Design #1

(Menus 1-4, 13-16 )

Design #2

(Menus 5-8, 17-20 )

Design #3

(Menus 9-12, 21-24)

Sample Bag

Sample Bag

Sample Bag
New Design Testing
Five new designs were tested in late 2006:
How those designs scored compared to the current design: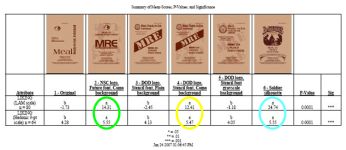 Circled numbers indicate highest scores
Based on cost and the risk of off-set printing errors, the final designs were changed slightly from the test designs above to allow for the use of only one color. This is most noticeable in test case #5 in the word "MRE" and in the loss of the faded background on the other test cases.