[British Rations Picture Gallery ]
The British use a ration called the 24-Hour Operational Ration Pack. Previous versions of this ration were called the ration packs (GS for General Service). Those rations included a lot of food in cans. By 1999, the GS rations were phased out and the newer GP (General Purpose) ration packs became the primary operational ration pack.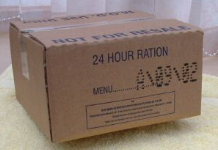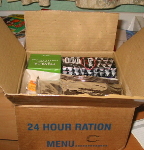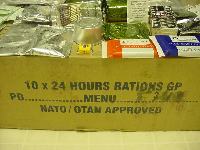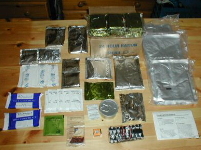 British ration packs come in several different varieties:
GP – 7 menus – standard ration pack
Religious – 3 Halal (Halal meat dishes) menus, 3 Sikh Hindu (specific vegetarian menus)
Vegetarian – 3 menus – suitable for Kosher diets
Patrol – 4 menus – lightweight dehydrated ration, more calories, rehydrated with water/snow/ice
Hot Climate/Cold Climate – Designed for consumption in hot or cold climates. In cold climate (CC) menus, an instant rolled oats mix is added. For Hot Climates (including tropical areas), an additional fruit drink mix is added, instead of the rolled oats mix.
Features of the 24-Hour operational ration pack are:
An individual ration for normal use in the field.
Ration is designed to feed one person for one day.
It has been designed to provide a balanced nutritional diet.
Can be eaten hot or cold.
ORP provides an average of 3800-4200 Kcal per ration.
Ration is 10% protein, no more than 35% fat, 55% carbohydrate.
Continuous consumption up to 15 days, ideally no longer than 30 days due to nutritional qualities.
7 Menus consisting of Breakfast, Snack, Main Meal, Beverages, Sundries (matches, tissues etc)
Hot meals in flexible foil pouches.
Rations packed in waterproof outer cardboard boxes.
All ORPs have a shelf life of at least 3 years.
Presently, up to 2.5 million rations produced annually.
British military ORPs are packed in a production line within HM (Her Majesty?s) Naval base at Portsmouth, England, UK.
The breakfast, main meal and dessert rations are of the boil-in-a-bag (retort pouch) variety and can be heated up by submerging them in boiling water heated up on a Hexamine Stove (see below). The soup and drinks are in instant and/or powdered form.
One useful feature of the GP rations is on the box itself. As you can see from this picture, each box has a target and range card printed on the side.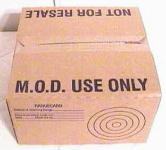 British soldiers are issued Hexamine stoves, also called Tommy Cookers. These pocket-sized, foldable, solid fuel metal stoves use blocks of hexamine for fuel. These stoves be can used to heat up water for coffee/tea and to warm up the entrees. They also come with an adapter to hold a metal mug/canteen cup. These stoves are similar in design to the European Esbit stoves but are larger and come with different fuel. They come issued in a brown paper wrapper with 8 fuel tablets in a waxed box. The standard issue is one cooker every three days but with fuel refill every day. The fuel with these is very toxic, smells dreadful and very difficult to light as it is very waxy. Despite all this the smell of it on a cold morning is beautiful!
Some of the pictures show the mug adapter, which fits on the top and holds the relatively new issue "Crusader" metal mug. The normal issue mug that comes with the water bottle is plastic and fits on top of the bottle. The metal "Crusader" mug fits underneath the bottle.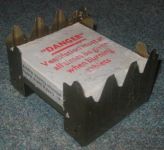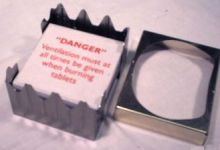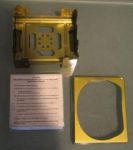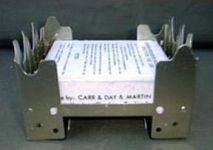 Other British ration packs:
4-Man Ration Pack

There is also a 4-man ration pack and a 10-man ration pack. The 4-man pack is for use in Armoured Fighting Vehicles and is designed for crew feeding with four rations in one box. There are slight variations in components, no pudding, but an extra savoury pouch and extra beverages.

10-man Ration Pack

Introduced in early 2002.
Self contained ration to feed 10 people for 24 hours.
For use by a chef with central feeding facilities (field kitchen), but minimal catering skills required.
Second stage established feeding. Can be supplemented with bread, fresh fruit and vegetables where supply allows
Contains Breakfast, Main Meal and Snack Meal.
Extensive use of commercially available products ? shorter shelf life and fresher rations.
At present, sourced and packed commercially to contract.
Four menus ? use of sauces and flavourings to alter menus.
Positive feedback on ration from operations in Iraq.
Official information about British ration packs can be found on the Ministry of Defence web here. Here is one user's report as to the contents of a 2001 British ORP:
In 2001, each 24 hour 1-man ORP came in a small brown corrugated cardboard box, with the full menu listings printed on the bottom (GP A-G, H, K, S, V, P, sundries and variants). Each box contains the following:
1 x Breakfast meal (in foil boil-in-a-bag packet, encased in a sealed polythene bag for added protection)
1 x Main meal (in foil boil-in-a-bag packet, encased in a sealed polythene bag for added protection)
1 x Dessert meal (in foil boil-in-a-bag packet, encased in a sealed polythene bag for added protection)
1 x Soup, powdered form, in sachet (varying flavours; Beef & Tomato, vegetable, Cream of mushroom, etc, manufactured by "Chequer Foods Ltd")
1 x Meat Pate, such Turkey and Herbs, Chicken and Herbs, etc (in small, ring pull opening, can)
1 x Oatmeal block (A slight exaggeration! It is really just a small Oatmeal biscuit, in metallic green foil packet)
1 packet x Biscuit Browns (approximately 6 in metallic green packet)
1 packet x Fruit Biscuits (approximately 6 in metallic pink or green packet)
1 x Milk chocolate bar (usually a bar manufactured by "A. Gandola & C. S.p.A. of Italy", but sometimes a brand called "Duncans of (Bellishill) Scotland")
1 x Milk chocolate with raisins and cereal bar (usually a brand called "Duncans of (Bellishill) Scotland")
1 packet of Boiled sweets (various fruit flavours, manufactured by "Chequer Foods Ltd")
1 packet of Wrigley?s chewing gum (usually Wrigley?s Extra, but sometimes a smaller packet of Wrigley?s chewing gum in tablet-like form)
1 x Drinking chocolate mix sachet (manufactured by "Eurogran of Kalundborg")
2 x Coffee sachets (manufactured by "Chequer Foods Ltd")
2 x Beverage whitener sachets, for coffee (manufactured by "Chequer Foods Ltd")
4 x Instant white tea sachets (manufactured by "Premier Brands")
8 x Sugar sachets (Manufactured by "Single Service")
1 x Orange or Lemon drink powder sachet (manufactured by "Eurogran of Kalundborg")
1 x Vegetable stock drink sachet (manufactured by "Single Service")
1 packet x Kleenex Tissues (manufactured by "Kleenex")
6 x Water purifying tablets
10 x Water/windproof matches with striker (matches and striker sealed in separate polythene compartments, to prevent accidental striking during packing, handling, and transportation)
Variants to GP menus content, circa 2001 (i.e., vegetarian, hot climate and cold climate):
2 x Orange or Lemon drink powder sachets (in hot climate ORPs, instead of just 1)
1 x Rolled Oats Mix sachets (in cold climate ORPs)
1 x Kendal Mint cake bar (in hot climate ORPs)
1 x Vegetarian pate, such as Spinach and Lentils (in vegetarian ORPs, instead of meat)
1 x Vegetarian cheese Oatcakes (in vegetarian ORPs, instead of Biscuit Browns, sealed in a metallic yellow packet, approximately 4)
Here is an article on British rations that appeared in The Daily Mail on April 9, 2004 (click for a larger version). Here's some more information found here. And here's an older menu sheet (one in every GP pack, to be found in the drinks/sundries pack).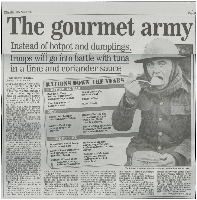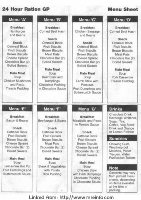 In addition to the pouched foods, you also get 30-odd separate packs of one sort or another:
An Oatmeal block (really a sweet oatmeal biscuit – quite tasty!)
Chocolate bars or a bar of Kendal Mint Cake, according to the menu.
Biscuits, brown (malted and hard, pack of six).
Biscuits, fruit-filled (malted hard garibaldi-like, pack of six.)
Cheese, processed, or meat pat?, according to the menu.
Tea, Instant, White, 4 x sachets.
Coffee, instant, 2 x 5 gramme sachets.
Sugar, quick dissolving, 8 x 10 gramme sachets.
Drinking chocolate mix, 1 sachet.
Vegetable stock drink mix, 1 x sachet.
Instant soup (varying flavours), 2 x sachets.
Beverage whitener (non-dairy creamer), 2 x sachets.
Gum, chewing, PK, 5 sticks.
Sweets, boiled, 1 pack assorted flavours.
Fruit drink mix, either orange or lemon (enough for 1 litre of drink).
Tissues, paper (Kleenex individual pack).
Waterproof matches (10) and striker (1).
Water purification tablets (6).