[RCIR Home] [RCIR Contents – RCIR #1 and RCIR #2 and RCIR #3]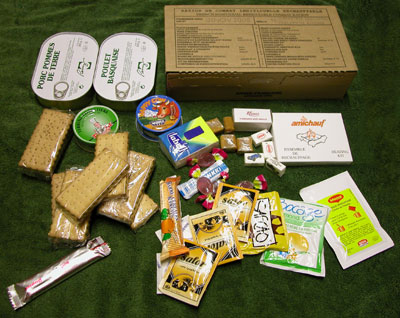 Here are some pictures of an opened French RCIR. I can't quite make out the menu number and date, but it looks like it's around November, 200X.
RCIR Box
Main entree – Pork and Potatoes
Not exactly sure what this is – probably some sort of liver paté
Happy Cow Processed Cheese Spread
Two types of crackers – four packs of salty crackers, four packs of sweet
crackers
Instant soup
Dark chocolate bar
Fruit-flavored energy bar
Instant chocolate drink, evaporated milk, instant coffee, and sugar
Sugar lumps
Disposable folding stove. Comes with 6 esbit tablets and matches.
Caramels
Chewing gum
Candies
Folding paper towels
These pictures were taken directly from here. This page is in Chinese. If you need an English translation, try this babelfish link.