The First Strike Ration, or FSR, is a compact, eat-on-the-move assault ration designed for use during initial periods of highly intense, highly mobile combat operations. The FSR is substantially reduced in weight and size and enhances soldier consumption, nutritional intake, and mobility.
The FSR was first announced in 2002 and by 2004, prototypes were available for testing. Finally, by late 2007, the FSR was available and shipping to the field. The NSN (National Stock Number) is the FSR is 8970-01-543-3458.
The development of the FSR came from the fact that prior to deployment, soldiers would "field strip" their MREs. Field stripping involves removing all the excess MRE packaging and unwanted items – bags, boxes, heaters, extra spoons, accessory packs, etc. Creative field stripping could reduce 3 MREs – one day's worth – down to the same size as a single MRE. While this practice reduced the soldier's load by only packing the most critical MRE parts, it also led to increased waste and a reduced consumption of food. A single FSR, which is 24 hours worth of food, is approximately 50% the size and weight of three MREs.
1 FSR = 2,900 calories
3 MREs = 3,800 calories
15 cases of MREs= 24 hours of rations for 60 soldiers
7 cases of FSRs = 24 hours of rations for 63 soldiers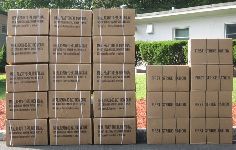 As designed, all the components of an FSR can be eaten with little or no preparation. Pocket sandwiches, applesauce, energy bars, crackers, peanut butter, and beef jerky can be eaten as is while drinks can be mixed with water and consumed directly from their pouches.
FSR Facts:

Calories: ~2,900 per ration
Protein: 15%
Carbohydrates: 53%
Fat: 34%Shelf life: minimum 2 years at 80º Fahrenheit9 Meals per case
3 of each menu per caseNSN: 8970-01-543-3458
First Strike Ration Menus 2011-Present
MENU 1
MENU 2
MENU 3
Filled French Toast
Bacon cheddar Breakfast Sandwich
Pepperoni Pocket Sandwich
Cheese Spread, Jalapeño
Wheat Snack Bread
Dessert Bar, Peanut Butter
First Strike Bar, Chocolate
Beef Snack, Teriyaki
Beef Snack, Barbecue
Snack, Pretzels
Zapplesauce, Cinnamon
Nut Fruit Mix, Type III
Chocolate Protein Drink
Beverage base
Gum, Caffeine, Cinnamon
Accessory Packet B
Toaster Pastry
Italian Pocket Sandwich
Chicken Chunks
Tortillas
Peanut Butter
Crackers
Dessert Bar, Mocha
First Strike Bar, Apple-Cinnamon
Beef Snack, Teriyaki
Beef Snack, Barbecue
Zapplesauce
Dried Cranberries
Almonds
Beverage base (2)
Gum, Caffeine, Peppermint
BBQ Sauce
Hot Sauce
Accessory Packet B
Lemon Poppy Pound Cake
Honey BBQ Beef Pocket Sandwich
Lemon Pepper Tuna
Tortillas
Cheese Spread
Crackers
Dessert Bar, Chocolate Banana Nut
First Strike Bar, Mocha
First Strike Bar, Cran-Raspberry
Corn Nuts
Zapplesauce
Nut Fruit Mix, Type III
Beverage base (2)
Caffeinated Mints
Mayonnaise
Hot Sauce
Accessory Packet A
MENU 4
MENU 5
MENU 6
Filled Cinnamon Bun
Mexican Beef Filled Wrap
BBQ Chicken Chunks
Cheese Spread, Jalapeño
Wheat Snack Bread
Beef Snack, Cranberry Nugget
Dessert Bar, Peanut Butter
First Strike Bar, Mocha
Energy Gel, Mixed Berry
Cheddar Filled Pretzels
Zapplesauce
Raisins
Beverage base (2)
Gum, Caffeinated, Cinnamon
Hot Sauce
Accessory Packet A
Filled French Toast
Toaster Pastry
BBQ Chicken Pocket Sandwich
Mango Chipotle Salmon
Peanut Butter
Crackers
Turkey Snack
Corn Nuts
First Strike Bar, Cran-Raspberry
Energy Gel, Mixed Berry
Nut Fruit Mix, Type II
Zapplesauce, Cinnamon
Chocolate Protein Drink
Beverage base (1)
Caffeinated Mints
Accessory Packet C
Filled Apple Turnover
BBQ Pork Filled Wrap
Garlic and Herb Chicken Chunks
Cheese Spread
Bagel
Beef Snack, Cranberry Nugget
Cheddar Filled Pretzels
Dessert Bar, Mocha
First Strike Bar, Apple-Cinnamon
Caffeinated Chocolate Pudding
Dried Cranberries
Dairy shake, Strawberry Banana
Beverage base (1)
Gum, Caffeinated, Peppermint
Hot Sauce
Accessory Packet C
MENU 7
MENU 8
MENU 9
Filled Blueberry Turnover
Beef Nacho Pocket Sandwich
Sweet and Spicy Tuna
Cheese Spread, Cheddar Potato Bacon
Crackers,
Wheat Snack Bread
Baked Snack Crackers, Hot and Spicy Cheese
Turkey Snack
First Strike Bar, Chocolate
First Strike Bar, Apple-Cinnamon
Nut Fruit Mix, Type III
Zapplesauce
Beverage base (2)
Gum, Caffeinated, Cinnamon
Mayonnaise
Accessory Packet A
Filled French Toast
BBQ Chicken Pocket Sandwich
Albacore Tuna
Bagel
Cheddar Filled Crackers
Beef Snack, Barbecue
Beef Snack, Teriyaki
Dessert Bar, Chocolate Banana Nut
First Strike Bar, Mocha
Fruit, Zapplesauce, Cinnamon
Nut Fruit Mix, Type II
Dairy shake, Vanilla
Beverage base (1)
Gum, Caffeinated, Peppermint
Mayonnaise
Accessory Packet A
Filled Cinnamon Bun
Italian Pocket Sandwich
Garlic and Herb Chicken Chunks
Tortillas
Cheese Spread, Cheddar Potato Bacon
Crackers
Corn Nuts
Beef Snack, Cranberry Nugget
First Strike Bar, Cran-Raspberry
Caffeinated Chocolate Pudding
Raisins
Dairy shake, Vanilla
Beverage base (1)
Caffeinated Mints
Accessory Packet B
Accessory A
Coffee
Creamer, Non-Dairy
Sugar
Towelette
Salt
Matches
Tissue
Accessory B
Beverage, Lemonade or Raspberry
Towelette
Salt
Matches
Tissue
Accessory C
Towelette
Salt
Matches
Tissue
Zip-lock pouch
Towelette (2)
Spoon
Zip-lock pouch
Towelette (2)
Spoon
Zip-lock pouch
Towelette (2)
Spoon
First Strike Ration Menus 2007-2010
MENU 1
MENU 2
MENU 3
Filled french toast pocket
Bacon cheddar pocket sandwich
Pepperoni pocket sandwich
Cheese spread, jalapeño
Wheat snack bread
ERGO drink
ERGO drink
First Strike! mocha
First Strike! chocolate
Dessert bar, peanut butter
Beef snack, sweet BBQ
Beef snack, teriyaki
Applesauce, CHO enhanced
Nut fruit mix
Caffeinated gum
Brown sugar cinnamon toaster pastry
Italian pocket sandwich
Chunk chicken
Tortillas
Peanut butter
Cracker, plain
ERGO drink
ERGO drink
First Strike!, apple cinnamon
First Strike!, cran-raspberry
Dessert bar, mocha
Beef snack, sweet BBQ
Beef snack, teriyaki
Applesauce, CHO enhanced
Nut fruit mix
Caffeinated gum
Mayonnaise, fat free
Hot sauce
Lemon poppyseed pound cake
Honey BBQ beef pocket sandwich
Albacore tuna
Tortillas
Cheese spread, plain
Cracker, plain
ERGO drink
ERGO drink
First Strike!, mocha
First Strike!, cran-raspberry
Dessert bar, chocolate banana nut
Beef snack, sweet BBQ
Beef snack, teriyaki
Applesauce, CHO enhanced
Nut fruit mix
Caffeinated gum
Mayonnaise, fat free
Hot sauce
Accessory C
Apple cider
Towelette
Salt
Matches
Tissue
Accessory B
Lemon tea
Towelette
Salt
Matches
Tissue
Accessory A
Coffee
Cream substitute
Sugar
Towelette
Salt
Matches
Tissue
Zip-lock pouch
Towelette (2)
Spoon
Zip-lock pouch
Towelette (2)
Spoon
Zip-lock pouch
Towelette (2)
Spoon
Components
| | |
| --- | --- |
| FSR Component | Description |
| | A single First Strike ration comes in a single package and provides enough food for one day. |
| | Shelf-stable pocket sandwiches come in three flavors: Bacon Cheddar, Italian, and Honey BBQ Beef. |
| | Tuna pouch, flour tortillas, and fat-free mayonnaise. A chicken pouch is available in another menu. |
| | First Strike Bars – Theses were originally the same "HooAH!" bars found in some MREs but were renamed to "First Strike!" bars. These are similar to commercial performance bars (PowerBars) and come in chocolate, apple-cinnamon, raspberry, cran-raspberry, and mocha flavors. The mocha bars are fortified with 200mg of caffeine. |
| | Zapplesauce is the name of the FSR applesauce. It is made with extra maltodextrin, a complex carbohydrate, for sustained energy release. |
| | ERGO drink mix contains Maltodextrin as the key ingredient. ERGO tastes similar to a sports drink. It is intended to increase endurance by conserving glycogen, which is energy stored in the liver and muscles. The ERGO drink packs will have a "fill-to" line so users easily know how much water to pour in. Straws were desired but are not feasible, so the drink pouch was redesigned so as to be easier to grip and drink from. |
| | Beef Jerky comes in two flavors, Sweet BBQ and Teriyaki. The use of commercial off-the-shelf products like this is one of the ways development time of the FSR was lowered. |
Early Designs
These are pictures of an early prototype of the FSR design: