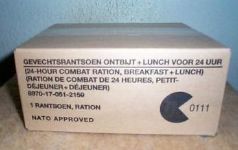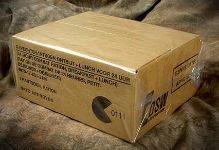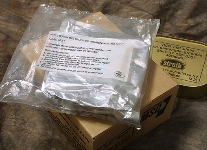 The Dutch army uses two types of rations – a regular ration and an arctic ration for cold-weather operations. The packaging for the regular ration is made out of cardboard while the arctic ration is packaged in a plastic pouch. The arctic ration contains freeze dried meals and porridge for breakfast and has a higher level of calories. The Dutch Army also has an emergency ration but these are only supplied in time of war. They contain dry blocks similar to the Datrex or Mainstay survival bars.
| | |
| --- | --- |
| Regular Ration | Arctic Ration |
| | |
Contents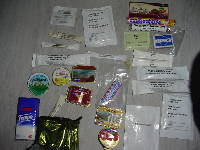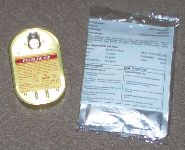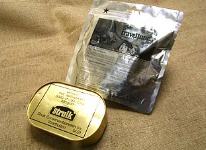 Breakfast and lunch
250 grams (2 x 125 grams) of biscuits, meat spread, cheese spread, tuna spread, and jelly. The biscuits with the jelly and spread are the replacement for bread and should be eaten as lunch and breakfast. The biscuits are thicker and harder than the crackers in US MREs.
Beverages
The drinks come in packets and can be made up with hot or cold water. There is enough powder to make up: 2 cups of hot chocolate, 1 cup of lemonade energy drink (cold), 2 cups of tea, and 2 cups of beef stock drink (one with herbs and one without). Four packets of sugar and 2 packets of coffee whitener are also included. All packets can be bought in the supermarket – there are no 'special army' products in it.
Snacks
There are two packets of nuts and raisin mix, a wrapper with 15 boiled sweets (fruit or mint flavour named "Mentos"), and a candy bar (Mars).
Sundries
The packet also contains one package of toilet paper (10 each), salt (4 x 1.5 gram), chewing gum, and matches. They are enclosed in a plastic bag that can be used as a litter container.
Alcohol-based tablets (Esbit or Hexamine)
To heat up the water and the main course the Dutch Army supplies alcohol-based tablets. They are packed in a small box of six tablets (2 x 3 tablets). Every Dutch soldier has his own Esbit burner in his standard equipment. So there is no need to make a hole in the ground or to improvise a cooking system from rocks.
Main course
There are cans and pouches available. The cans contain 400 grams of food and the pouches contain 350 grams. The pouches can be heated up in boiling water and the water can later be used to make up hot beverages. The cans can be heated up in a mess tin or in hot water. In an emergency situation it is possible to heat up the contents in the can. The main course is not packaged inside the lunch/breakfast/beverage box. Every 24 hours the soldier will receive two cans or two pouches. Pouches and cans can be eaten hot or cold.
Menus
Cans
Chicken with rice and curry
Rice with vegetables and beef
Potatoes with sausage and green vegetables
Sauerkraut with sausage and potatoes
Rice with sweet sauce red sauce and pork
Brown beans with pork
White beans with pork and tomato sauce
Pouches
Chili con carne
Corned beef hash with potatoes
White beans with tomato sauce and pork
Chicken meatballs with tomato sauce and pasta
Brown beans with pork
Note: these are only the cans and packets seen and eaten by MREInfo.com contributors. More types might be available.
Here is the English text from cards inside the ration. I left all the spelling as I found them on the card.
1 Laminate Sachet:

1 chocolate bar
1 box of matches
1 sachet of salt
4 sticks of sugar
1 roll of candy, fruit-flavoured
1 roll dextrose tablets, vitamized
1 packet of chewing gum
2 sachets of instant soup
1 sachet of instant beef tea
3 packets of biscuits
3 cups of meat spread
1 cup of tuna spread
1 cup of jam
1 cup of triacle
2 sticks of instant coffee
2 sticks of cream substitute
1 sachet with 2 sachets of tea
2 sticks of cocoa beverage-powder
1 packet of paper tissues
1 stick of lemon flavoured beverage-powder

Directions for use:

Attention for directions on individual packages.

Instant beaf tea:

Dissolve contents in 250ml hot water.

Instant soup:

Add 200 ml hot water at the contents and stir.

Instant coffee:

Dissolve contents in hot water and add cream substitute and sugar.

Tea:

Put contents in hot water.

Lemon flavoured beverage-powder:

Dissolve contents in 250ml (1/3 goblet) cold water.

Cocoa beverage-powder:

Dissolve contents in hot water.

Salt:

Also used against strong transpiration.

Salt is also suitable for brushing teeth.
Credits and thanks to: Hein for much of the text of this page as well as some pictures. Matthias for the pics – especially the pics of the contents. And the great Japanese Yokoku ration page for a couple of the pics up top.