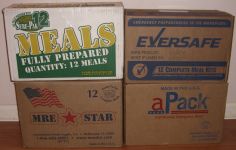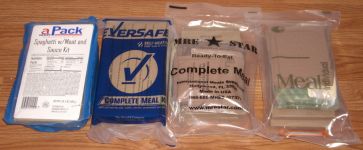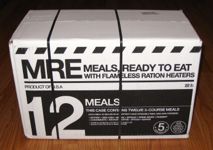 [Specs] [Spoons] [Individual Reviews]
Civilian MRE Comparison
So how do all five brands of civilian MREs compare to each other? Which one most closely resembles the military MREs? Which one packs the most calories per case? We'll attempt to answer those questions and more below.
Note: The findings and results below are completely the opinions of the MREInfo.com. We are not affiliated with any of the MRE (civilian or not) producers or dealers. While some manufacturers did send in cases for review, other cases were purchased from dealers on the Internet. It's not our intent to recommend one particular civilian MRE over another but to provide guidance as to the pros and cons of each brand. If you're considering an MRE purchase, please keep all of the various comparison factors in mind so you can select the product that best suits your needs.
Specification Comparison
| | | | | | | |
| --- | --- | --- | --- | --- | --- | --- |
| | | | | | | |
| Number of unique entrees | 6 | 10 | 6 | 6 | 6 | |
| Meals per case | 12 | 12 | 12 | 12 | 12 | |
| Total calories per case | 14,660 | 14,860 | 13,800 | 12,700 | 15,180 | |
| Average calories per MRE | 1,222 | 1,238 | 1,150 | 1,058 | 1,265 | |
| Case Price1 | $89 (incl. ship) | $130 (incl. ship) | $882 | $893 (incl. ship) | $924 (incl. ship) | |
| Price per MRE | $7.42 | $10.83 | $6.50+ship | $7.42 | $7.67 | |
| Heater Included? | Yes | Optional | Optional | Optional | Yes | |
| Manufacturer's Website | | | | | | |
1Case price is a blend/estimate based on surveys of various dealers. Prices include heaters. Price does not include shipping (except where indicated), which could be anywhere from $5 to $25 per case.
2MREStar MREs are $80 w/o heaters, $88 w/ heaters. Free shipping only when ordering 2 cases.
3Sure-Pak 12 MREs are $85 w/o heaters, $89 w/heaters.
4Includes cost of $12.49 for shipping to my zip code.
Spoons
A key part of every MRE is the spoon. This is what gets the food from the pouch to your mouth. Here's a comparison picture of the four spoons from the different civilian MRE manufacturers:
From left to right – APack, MREStar, Eversafe, Sure-Pak (also Meal Kit Supply on the last spoon).

(Click on the picture for a bigger version.)
The APacks and the MREStars use the same wide-mouth spoon. According to MREStar, this design was requested by the DSCP so soldiers could consume the food faster. Sopakco, and Meal Kit Supply use the exact same spoon as is found in the military MREs. According to Sopakco, they have resisted requests to change the spoon because they believe their customers prefer the military spoon. The Eversafe spoon is the longest, but it has the smallest spoon-shape and is flimsier than all the others.
Individual Reviews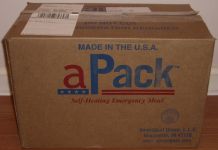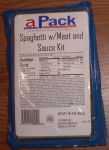 Ameriqual finally gets into the civilian MRE market with a very strong product. They offer a decent entree variety and do a good job in varying the spreads, sides, and desserts. The included heater is a big plus.
Pros: Lots of food per MRE – almost as many calories as a regular military MRE. Heater included (uses provided salt water packet). Beverage base is sugar/calorie-free – this frees up more calories for real food. Crackers! Nothing says MRE quite like those crackers.
Cons: No paper napkin; short, wide-mouth spoon helps you eat too much food too fast.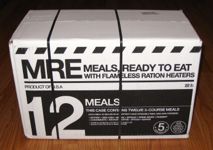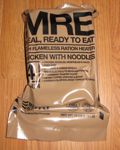 Meal Kit Supply is doing a lot of things right. There is a welcome variety of entrees, sides, desserts, and especially breakfast items. The included heater is unique.
Pros: Variety of food – the only menus that repeat are two of the breakfast MREs. Everything else provides a welcome change of pace if you have to eat out of the same case of MREs for a while. The addition of the breakfast MREs makes this a case that can truly provide you with an all-day food source..
Cons: These are the most expensive civilian MREs…but you get a lot of menu variety for the price.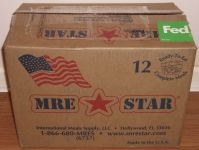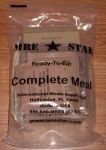 The entrees are the highlight of this civilian MRE but the rest of the menu is monotonous (it's the exact same for every meal). As the product matures, we're hoping to see more entree, side, and dessert variety.
Pros: The entrees! Four of the six entrees have not been seen before in any MRE (military or civilian) and taste excellent. The other two entrees (Beef Stew and Cheese Tortellini) are similar in name-only to their MRE counterparts. These new versions taste much better.
Cons: Lack of menu variety. Wide-mouth spoon. Nut Raisin Mix is abnormally high in calories. I'd rather see many of the Nut Mix calories and the calories from the drink mix used for other food items – like crackers and cheese spread or peanut butter.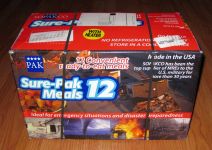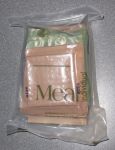 The Sure-Pak 12 has been around the longest of all the civilian MREs. Of all the civilian MREs, this one comes closest to the military version. Even the meal bag is an almost exact duplicate of the military MRE bag with the exception that it's clear and the menu info isn't printed on the bag.
Pros: A real MRE spoon. A real MRE (plain water-based) heater can be included in the MRE bag. Instant coffee/creamer/sugar in every MRE. While entree variety is limited to six menus per case, the menus can differ between cases. Crackers and spreads in every MRE! The MRE bag is almost exactly like the military MRE bag.
Cons: Despite having a very MRE-like menu and good variety of sides/spreads/desserts, the calorie count for the Sure-Paks came in around 100 calories lower than its competitors.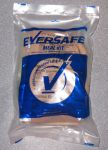 Wornick Eversafes are back on the market with a new menu selection for this 4th interation. All items in the Eversafes are now the same military-type items found in other civilian MREs so this new offering should provide a good option for emergency preparedness foods.
Pros: The highest calorie count out of all the civilian MREs – almost as much as a regular military MRE. Good combination of main entrees and sides, good variety of peanut butter/cheese spread. FRH is activated with regular water. Coffee and creamer in every MRE.
Cons: Beverages and desserts could use some variety. Limited dealers available.
Buying Civilian MREs
Check out the Buying Civilian MREs page. Also see the individual civilian MRE pages (linked above) for dealers of specific MRE brands.