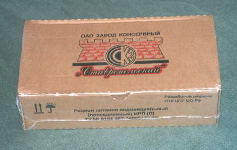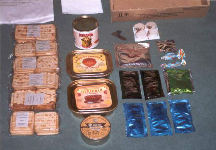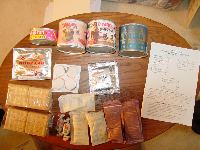 The Russian Federation uses a ration called the "24-Hour Individual Food Ration" or "Individualnovo Ratsiona Pitanee – Povsedyen" (IRP-P). This ration is structured much like the
French RCIRs
in that it contains a day's worth of food (most of it canned) and a hexamine-based folding stove. Here's a scan of the menu sheet included in each ration:
| | |
| --- | --- |
| Russian (scan) | English translation |
| | |
This is the translation of the menu sheet. Any corrections to the translation would be appreciated – feel free to contact me.
Composition of Individual Food Ration, IRP-P (for 1 person for 24 hrs)

No.

Names of products

Units

Quantity

1.
Crackers (literally "Amy loaves")
1/50 packet
6
2.
Assorted canned meat and vegetables: barley porridge, boiled buckwheat, rice with beef
1/250 g
2
3.
Assorted canned meats – sausage stuffing, liver pate
1/100 g
1
4.
Stewed beef
1/250 g
1
5.
Beverage concentrate
1/25
1
6.
Fruit jam
1/45
1
7.
Tea with sugar
1/16
2
8.
Caramel candy
1/5
2
9.
Sugar
1/15
3
10.
Paper napkins
piece
3
11.
Multivitamins
drop
1
12.
Alcohol-based heater (hexamine stove)
piece
1
13.
Can opener
piece
1
Food and energy value of individual food ration (per day)
Proteins, g = 128,0Fats, g =103.0Carbohydrates, g = 415,0Energy value, kcal = 3100,0
Instructions on Using the IRP-P
1. To warm up the contents and prepare boiling water, use the portable heater according to its usage instructions (separate the metal stand, grill, and container with the tablets; bend the stove's tabs to 90 degrees, remove tablets, ignite on the grill and place inside the stand; above the stand, place canteen cup with 250 ml of water or canned foods). After heating, return parts to their initial positions and use again for subsequent food heating.
2. Meat and canned meat-and-vegetables can be consumed either cold or heated.
3. Crackers are used in place of bread.
4. Before drinking, beverage concentrates need to be reconstituted. Contents of the packets are poured into a canteen cup and filled with boiling water (200-220 ml).
5. To prepare the tea with sugar, empty the contents of the packet into a canteen cup and add boiling water.
6. The packet of jam should only be opened immediately before use.
7. Multivitamins (drops) are used during breakfast.
8. Caramel candy is used during the day.
Russian Ration Photos
Thanks to Thomas for sending them in!
The ration box. This one appears to expire in
2005.
Crackers, caramels, sugar, tea w/ sugar, jam.
Two types of porridge with beef (square tins) and sausage stuffing.
Beverage concentrates
Stewed beef
Main entrees opened up!
Folding stove with hexamine tablets
Folding stove with entree on top
Can opener, multivitamin
Miscellaneous Russian Ration Comments
Here's some information I found on a forum on the Internet – one man's comments about Soviet rations:
The Soviet Union provided a very basic, awful-tasting combat ration called the
"Sukhoi Pak" (Dry Ration). Consisting entirely of preserved bread
and canned foods, the three choices were: a can of preserved meat, several hard
crackers, a small can of cheese, a tea bag, and a large cube of sugar; two cans
of meat mixed with buckwheat groats and hard preserved bread; a can of meat
stew and a second can of vegetables or fruit. This did not work out well in
Afghanistan, so the Soviets developed an "improved" ration called
the Mountain Ration. Still consisted of canned items, but with more supplements.
Provided a can of meat or fish or meat mixed with vegetables, a can of meat
mixed with oatmeal, a can of buckwheat groats mixed with fruit, a small can
of sweetened condensed milk, a small can of fruit or berry juice, a sour lemonade
drink, and preserved bread or crackers. This ration is currently issued to Russian soldiers.