Also see: [Buying Civilian MREs] [Buying Foreign MREs] [Buying MRE Parts and Pieces]
[COVID-19/Coronavirus Update: MREs and Food Preparedness]
March 23, 2020 Update: WIth the COVID-19/Coronavirus pandemic, many online stores are sold out of civilian MREs. As of this date, MREMarketplace.com (available now) and TheReadyStore.com (site says could take 3 months to ship) currently have some availability. Prices average $150 per case, which includes free shipping.
Buying U.S. Military MREs
Ok, so you're ready to try some MREs. Where do you get them? It all depends on what type you want to buy. Read on for more information and be sure to check my page on "How to tell how old your MREs are" and "MRE Longevity" before you go buying.
In 1997 the government started posting the following notice on all MRE boxes:

. While this notice seems to have cut down on some of the blantant "sell them by the truckload" selling, you can still find perfectly good MREs pretty easily.
How much to pay?
$60-$80 per case is the average price. You can sometimes find them less and you can always find someone trying to sell them for more. $70 plus shipping (24lbs for $20-$30) is a fair deal.
---
eBay purchasing update – Coronavirus Edition

March 22, 2020: With the current COVID-19/Coronavirus pandemic, MRE prices everywhere have skyrocketed. Buy-it-Now pricing is currently around $199 per case with free shipping. Even 10 year old MREs are going for $100 (plus $25 shipping) per case.
---
Curious as to what the government charges for them? According to the current price list from the DSCP (Defense Supply Center Philadelphia), the 2016 cost of a box of MREs is $105.05. Remember, this is what they charge internally – not what they actually pay for them from suppliers.
Where to find them?
Someone in the military: if you know someone active in the military, there's a chance they can get some MREs for you. Full-time military personnel and part-time reservists/National Guard often get these during training/field exercises.
Army Surplus Stores: you can almost always find MREs at these places. Unfortunately, these are also where the MREs are the most expensive. I've seen individual MREs being sold for $8 and a case of them (12 per case) for $80. That's outrageous. It's fine if you just want one or two to try and you have a surplus store nearby but for any sort of quantity, don't get suckered in by these guys. If you happen to live near a military base, there's a good chance the MRE prices there will be much more reasonable because of the sheer number of local people selling them to the surplus stores.
Gun shows: you can usually find MREs at a local gun show. The prices can be more reasonable than surplus stores – $45-$60 and some vendors even have individual MRE components (entrees, snacks, sides, heaters, etc.) for sale.
eBay: outside of knowing someone in the military or living near a base, this is the #1 best place to buy MREs. You can find a whole range of MREs types, dates, cases, quantity, etc. Even better, you can often find a case of MREs for sale with "Buy it Now" still available for a reasonable price (around $70). This saves you a lot of grief of waiting around 3-5 days for the auction to end only to sniped by $1 in the last 30 seconds.
BE CAREFUL ON EBAY: besides all the standard safe-ebaying practices (checking feedback, etc.) you should also be on the lookout for certain things when shopping for MREs. Not all things labeled "MRE" are really the US military MREs that you're looking for. Here's what to look for/avoid:
What To Look For
1. Auctions with pictures – preferably the auction will have a picture of the actual case you will receive. Avoid auctions that don't have any pictures – you might not get genuine military MREs. Here's a picture of a genuine case of MREs: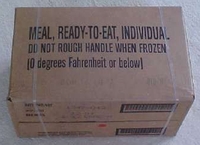 2. Pictures that show the date packed/inspection dates/menu types. Below is a picture of the kind of information you want to see on an auction listing. This will show you exactly how old the MREs are (based on either the packed date or inspection date – see this page for how to read them) and which MREs you'll be getting. Based on the pack date and the menu (A or B), you can check this page to see exactly which meals you'll be getting. I'm always a little skeptical of auctions that say "New Sealed Case of MREs" that show the case being opened with a pack date of 1999 (they're probably still good but the auction listing is misleading – the case is obviously open and 1999 is far from "new").
3. Auctions with lots of information. The really good auctions will tell you lots of information about exactly what you're ordering. I just did a quick check of ebay and here's an auction listing that's exactly what you're looking for:
CASE OF 12 MRE SEALED Menu B With Heaters

You are bidding on a case of 12 MRE's with heaters. These are the ones used by our military. The inspection date is 04/2012. They are good for 5 years if stored properly. Newer Tan pouch version. This case Menu B contains, #1 Cheese Tortellini #2 Pasta with Alfredo Sauce #3 Frankfurters #4 Thai Chicken #5 Beef Ravioli #6 Turkey breast with Gravy and potatoes #7 Beef with mushrooms #8 Spaghetti with Meat Sauce #9 Chicken Stew #10 Pork Chow Mein #11 Chicken Cauatelli #12 Meatloaf with Gravy. With every main item comes a dessert of some kind, and cracker that will have either cheese spread, or peanut butter or jelly. Also an accessory packet with instant coffee, sugar, creamer, salt, pepper, spoon, moist wipe, toilet paper, powered beverage, matches and *sometimes* they have gum and tabasco sauce. Shipping fee depends on your zip code, if you E-mail me your zip code I can tell you the shipping charge. I DO NOT CHARGE A HANDELING FEE. I will only ship within the continental US. This weight is approx. 22 lbs. I ship UPS.
This auction also had pictures of the front and back of the box complete with pack/inspect dates and menus.
THINGS TO AVOID
1. If you're looking for genuine military MREs, avoid auctions offering "MREs" that look like these:.
These aren't real US military MREs. Some are perfectly good name brand civilian MREs (Sopakco & Ameriqual) and some are generic or private label civilian MREs. If you want non-military MREs, these can be fine – see the section below on buying non-Military MREs for tips on buying these.
2. Auctions that list "Mil Spec" MREs. These are more often than not the civilian MREs made by Wornick (the brand is Mil-Spec). While the name makes the MREs sound like the real thing, they're not. Another giveaway is when the auction listing contains either of these lines:
These are identical to the military rations.
(In other words, they're not real MREs)
Each Meal will have 1 main meal, a side dish, dessert, accessory pack (salt, pepper, hot sauce, toilet paper, gum, napkin, spoon), jelly, cheese or peanut butter
What's missing here is the Flameless Ration Heater (FRH). Real MREs contain them but the civilian MREs do not. Some places want as much as $1 each for an FRH.
3. Shipping. The most reasonable shipping arrangements are the ones where the seller charges you actual shipping costs without any sort of "handling" (rip-off) fee. Fixed shipping costs can work for or against you depending on the auction. If someone wants to charge a flat $20 for shipping and they live in the same state, you're probably paying more than you should. However, if someone wants to charge $10 shipping and they live a few states away, that might be a good deal on your side.
---
Continue on to:
[Buying Civilian MREs] [Buying Foreign MREs] [Buying MRE Parts and Pieces]