Sopakco Sure-Pak 12 MRE Recall
On January 27, 2009, Sopakco, In. released the following recall for their Sure-Pak 12 civilian MREs:
SOPAKCO, Inc. Announces a Nationwide Recall of Certain SURE-PAK 12 Meals Containing Peanut Butter Products
Contact:
SOPAKCO, Inc.
423-278-1437
FOR IMMEDIATE RELEASE — Mullins, SC (January 27, 2009) — SOPAKCO, Inc., of Mullins, South Carolina, is voluntarily recalling certain Sure-Pak 12 Meals because peanut butter packages in the Meals may have the potential to be contaminated with Salmonella.
Salmonella is an organism that can cause serious and sometimes fatal infections in young children, frail or elderly people, and others with weakened immune systems. Healthy persons infected with Salmonella often experience fever, diarrhea (which may be bloody), nausea, vomiting and abdominal pain. In rare circumstances, infection with Salmonella can result in the organism getting into the bloodstream and producing more severe illnesses such as arterial infections (i.e., infected aneurysms), endocarditis and arthritis.
This recall follows the announcement of recent recalls by Peanut Corporation of America (PCA) and Boca Grande Foods Inc. indicating peanut products from PCA have the potential to be contaminated with Salmonella. Boca Grande Foods manufactured peanut butter with peanut paste from PCA, and supplied sealed peanut butter packages to SOPAKCO. The Sure-Pak 12 Meals with the lot numbers listed below contain 1 oz. or 2 oz. packages of peanut butter recalled by Boca Grande Foods. The recalled Sure-Pak 12 Meals were sold by SOPAKCO to distributors and costomers nationwide and several foreign countries. Some of the Sure-Pak 12 Meals were sold at stores specializing in emergency preparedness and camping gear and rations.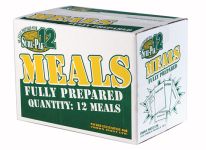 SOPAKCO is not aware of any reported illnesses involving Sure-Pak 12 Meals. However, as a precautionary measure, SOPAKCO is recalling Sure-Pak 12 Meals with the following lot numbers (located on the cases of product):
Customers are asked to take all Sure-Pak 12 Meals manufactured with the lot numbers listed above out of distribution immediately. This recall does not affect any other products or lot numbers made by SOPAKCO. Other lots of Sure-Pak 12 Meals may contain peanut butter packages, including 1.12 oz. packages from Boca Grande Foods; however, peanut butter packages in those Sure-Pak 12 Meals were obtained from sources which have not been linked to any Salmonella contamination.
Customers who received any products affected by this recall will be contacted directly by a SOPAKCO customer service representative. Customers with questions or concerns about the recall may contact SOPAKCO at 423-278-1437 for further information on what to do with the product.
---
Affected Peanut Butter Packets
It appear the peanut butter packets that are potentially contaminated are not the military-stye peanut butter packets but are the more commercial/civilian-looking packets. Courtesy of The Epicenter, we have this picture of one of the affected packets: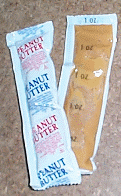 Regardless of whether you have the type of packet above or the military-style packet, if you have a case of Sopakco Sure-Pak 12 MREs from the affected lots numbers, you should contact Sopakco immediately.
---
Lot Numbers = Date Packed
In the case of Sopakco Sure-Pak 12 MREs, the lot number is the same as the "date packed" or date of manufacture. These datecodes can be read as ordinal numbers where the first number is year and the next three numbers are the day of the year. So a datecode of "8261" would indicate a year of 2008, day 261 – or September 18, 2008.
So it looks like the recalled Sure-Pak MREs were produced between September 18, 2008 and January 12, 2009.
For more information on reading MRE datecodes, please see MRE Date Codes.