Early LRP Review – Chicken Stew
Date: December 13, 2008
By: Capt Bob
As I was taking inventory of my ration collection, I noticed an opened LRP. I remembered that I had opened it to check its contents because I had an identical one that was still closed. The contents were complete, and just as I was about to put it back…. I thought, "Hmmmm. It's getting to be about lunchtime." Remembering the reviews on the MREInfo website, I don't recall ever seeing anyone documenting an LRP before – and certainly not an old one like mine. So, here we go!
First of all, there is no date on the outside package, nor on any of the interior components; but word has it that these were made in the late 1970s to early 1980s. The exterior has printing:
FOOD PACKET, LONG RANGE PATROL
CHICKEN STEW
MENU NO. 5
In small type at the bottom of the bag: "Quality Packaging Supply Corp., Rochester NY 14621"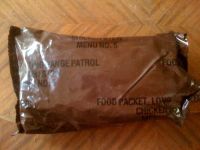 Here is the contents: the old, white spoon; an accessory packet; and the entree, wrapped (for some reason) in a brown cardboard wrapper.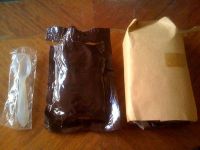 Pulling the entree out from its cardboard wrapper, we see that it was made by Oregon Freeze Dry Foods, Inc., Albany Oregon. No list of ingredients, but there are directions for use.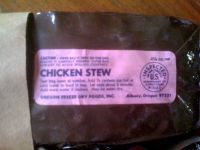 Here's what I found in the accessory packet: two packets of coffee; creamer; toilet tissue; two circular, foil-wrapped chocolate bars; matches; and sugar. The accessory packet contents also list an "interdental stimulator" which I must've lost. I wonder how much different this interdental stimulator might look from your everyday toothpick. I guess I'll never know!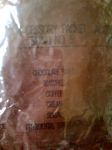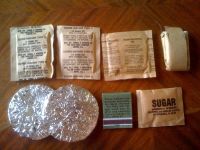 Opening up the chocolate, you can see how deteriorated it had become. Dry and crumbly, it still had the familiar smell, but it had ceased being a delicious treat long ago. My mistake was taking that little, triangular-shaped piece seen at the bottom of the photo and sampling it. Bitter and awful-tasting! I downed an entire soft drink to help remove the taste, but I could still taste it.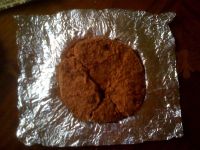 Turning back to the Chicken Stew entree, the directions indicate that there is another bag inside this foil pouch, so I straightened out the end and tore it off.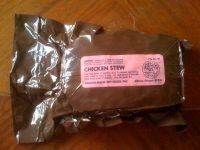 Sure enough, the dehydrated entree is enclosed in another plastic bag.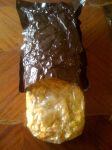 The top of the bag is folded down onto the center of the bag.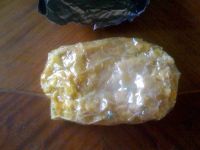 Turning the bag over, you can see a cardboard bottom which helps the bag remain upright when it is filled with water.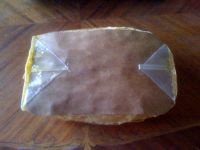 Turning the bag right-side up, I opened the top of the bag and gave this entree the smell test. Hmmm. Not bad. Let's take a closer look.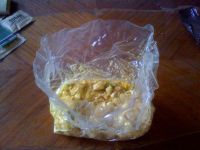 Yep…. dry and crumbly. Not good for chocolate; but exactly what you'd expect in a dehydrated entree. I took a couple of pieces and sampled them for taste. Again… not bad. The directions state to add half a canteen cup of water, hot or cold, to the food in the bag. Unable to find my canteen cup and not wanting to dig out my triox tablets and folding stove, I microwaved some water in a Pyrex measuring cup.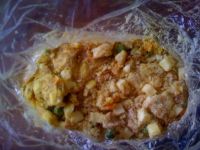 Well…. the directions say, "let soak about 5 minutes" and, as you can see, the veggies are starting to plump up and look like real food!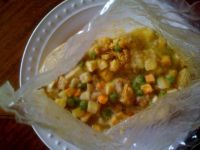 After about five minutes, most of the food had absorbed all the water. Giving it a stir, there was still some dry food at the bottom. The directions say "add more water if desired". Good. I did just that.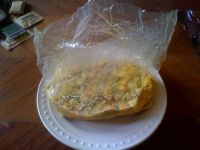 Giving it another stir and waiting a little longer for the water to soak in, it was beginning to look and smell really good. My two Australian Shepherds were waiting patiently for what they hoped might be their next meal.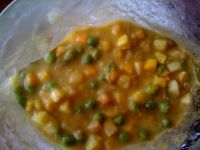 Okay, so the iPhone doesn't do well with closeup pictures; but I wanted to get a shop with some of the stew on the spoon to give you an idea of the size of the veggies, etc.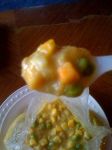 To see how much food this makes, you can see that it completely fills this large soup plate. "Down, dogs! This is for me!" They watch from a distance as I taste this for the first time.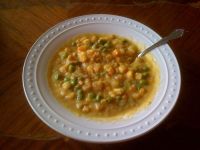 As for the taste, there is an abundance of thick, creamy texture and excellent chicken flavor in the base. The small diced vegetables are colorful and recognizable for their flavor as well. Peas, carrots, potatoes, all in good balance. The pieces of chicken can be a bit chewy–undoubtably a result of dehydration process–but all in all, very tasty and filling. Surprisingly, there was no off-odors or -flavors in this entree. I might have expected some staleness or even a tinge of rancidity, but nothing like that appeared. The seasoning is just about right for anyone's palette; I might have added some pepper if it were provided in the accessory kit. You probably wouldn't want to add any salt.
So, other than the bad chocolate experience, this was a fun to make and also made for a quite filling lunch.
Capt. Bob