As I got a
new USMC combat tent
, some ECWCS jacket a.s.o., this weekend was a good opportunity to test it...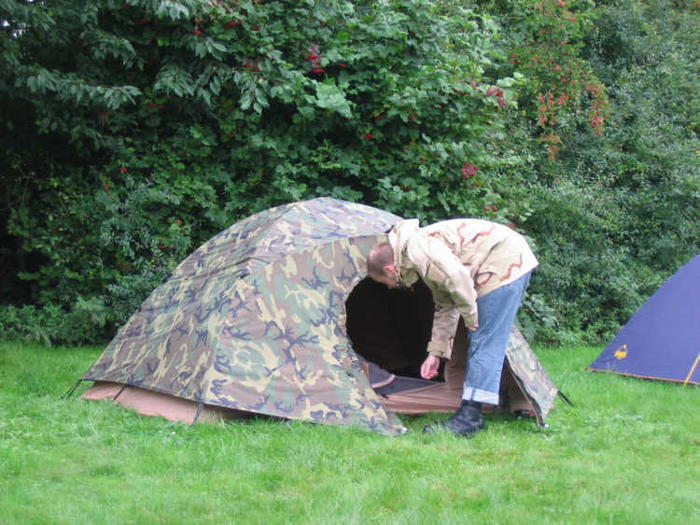 ---
I started Friday with Canadian dinner:
I started with the:
I still don´t know what
celerly soup
is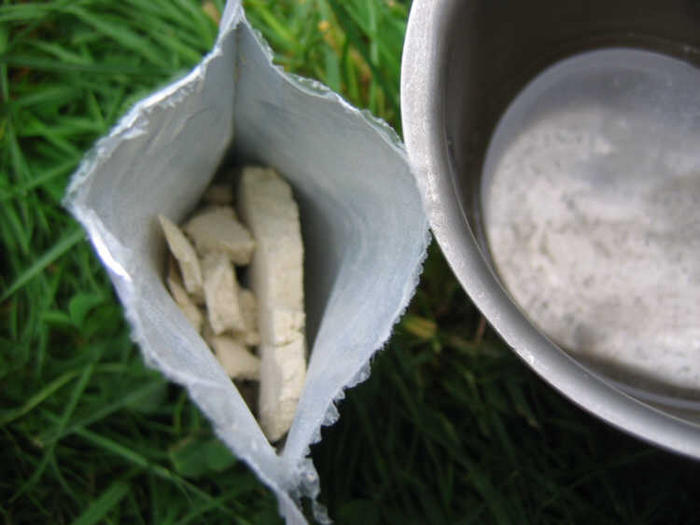 The soup was "OK", but I didn´t recognized the taste...

Entree:
The new Freddychef pounches don´t fit into the US FRH very well. They are bigger and need to be squeezed together until they will fit in.
The taste was OK to me, not to spicy nor hot, but also nothing that will keep in your mind for ever.
Sliced apples, very delicious to me

I was surpriesed about this:
After adding water, shaking well as advised:
I got a creamy, very well lemon tasting Lemon Pudding (not UK pudding, a real dessert)!!
Very delicious!!!!

---
Saturday morning breakfast:
I made Canadian coffee, but something with the coffee whitener went wrong:
It clotted for some reason

So I used the MRE cappucino
Next I opend a new German (UGR) Bundeswehr muesli
Remember I was testing a Norwegian one last week? Better take the Norwegian...
I continued continetal style:
MRE Wheat snack bread and Belgium Ration Pate
Dinner:
I also don´t know what "Zesty" means...
... but I realy liked it.
The FRH made it warm enough, the beef and potatoes were very well done. The taste was "sweet", very delicious to me!!
---
As I had a MRE (Thai chicken w/ rice) for dinner, I didn´t made some more pic´s about as you all know it.
At Sunday morning, I opend a new EPa leicht muesli, very similar to the German UGR one, just some more raisins in and a different package. So nothing "spectecular" that need to be posted.
Ordinary continetal breakfast with German canned EPa bread, Canadian IMP honey from Friday night. Nothong else.
We had rain for the whole weekend only but ~ 13°C at night and 18°-20°C at day, I can give some more impressions.
The tent made it very well
The heavy rainfly withstand all rain and everything kept dry. Also the tent floor made it. But the moisture went up the inner tent, also the humidity soaked everything inside until it "rained" down from the rainfly inside. But as I use a Goretex bivybag allways, no problem.
There is a charcoal makers hut up there we can use.
Cut a X-shape down with a chainsaw into the wood and set it on fire will gives you a "swedish oven". This will burn a whole day

---
Posts: 423
Joined: Thu Apr 12, 2007 6:50 pm
Location: virginia
awesome post housil! i look forward to when my son is a little older and we can go on some outings.
"Do not attack the First Marine Division. Leave the yellowlegs alone. Strike the American Army."
Orders given to Communist troops in the Korean War;
shortly afterward, the Marines were ordered
to not wear their khaki leggings.
---
Great pictures - looks like a fun trip!

By the way, "zesty" means something like "flavorful" or "strong flavored".

In terms of the HeaterMeal, "zesty" is probably just being used to make it sound tastier. They probably thought "BBQ" sounded too weak alone so they picked an adjective that would make it sound more appetizing.
---
Avid practitioner of the martial art: KLIK-PAO
---
Posts: 337
Joined: Tue Apr 04, 2006 12:55 pm
Location: VA
Thanks Housil. I really enjoy your pictorials.
I visited Germany a couple times for training with the Army, to Bavaria, and I thought it was one of the most beautiful places I've ever seen.
"Beer Heaven"

---
Posts: 1008
Joined: Mon Dec 25, 2006 1:14 pm
Location: Germany, Frankonia
Hi Olli,

really cool! Where in Germany is your campsite?

So long mreheater72
---
mreheater72 wrote:Hi Olli,

really cool! Where in Germany is your campsite?

So long mreheater72
The place belongs to the
charcoal makers club
(Köhlerverein)
of my home town
Marktheidenfeld/Spessart
.
We are there twice a year:
with tents and camping trailers
---