January 31, 2008
By kman
TheEpicenter.com recently picked up a bunch of MRE Indian entrees and sent me some samples to review. These entrees were all produced by Sopakco and appear to the be the same ones used in the MARC (Meal, Alternative Regionally Customized)ration. The MARC is a vegetarian ration with unique dietary and component requirements designed specifically for detainees at Guantanamo Bay Naval Base.
MARC Ration for Gitmo Detainees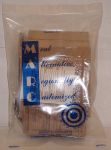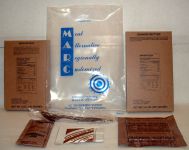 ---
Entree Reviews
The entrees being reviewed are: Channa Dal Masala, Saag Chole, Dhingri Mutter, Alu Chole, Vegetable Jalfrazi, and Curried Vegetables.
Channa Dal Masala
Wow, that was good! I'm not a huge Indian food eater. The only thing I know about the different curries is that my favorite is yellow and I haven't tried any others. :-)  But as luck would have it, this one had a nice yellow curry in it. I threw in some rice and had a great meal!
Dhingri Mutter
Not too bad – lots of potatoes and vegetables in this one. I ate it with rice but it could have made a meal all by itself – almost a stew.
Saag Chole
Oh man…when I opened this one, I was worried. I saw the ingredients had "spinach" listed but I didn't expect it to be so green! My first thought was, "This is going to come out looking like it went in". But I gave it a try and was very surprised – it was quite tasty! Initially, I thought it might be a little spicy but by the time I was halfway through it, I discovered it was actually *very* spicy. Hot hot hot. This stuff sneaks up on you. It's still disgusting to look at, but it's probably by second favorite entree of all these.
Curried Vegetables
This one was disappointing. It looks like they took the old "Pasta with Vegetables" MRE entree, took out the pasta and threw in some curry. It was "ok" but seemed to be more of an Americanized Indian entree than a true Indian entree.
Alu Chole
This one was interesting. I still can't figure out what the flavor in there was. It seemed to be a tomato-based sauce. Something in it tasted familiar but I could never put my finger on it. It's pretty basic – tiny square potatoes and chick peas. Better than the curried vegetables but not as good as the first three entrees above.
Vegetable Jalfrazi
This one seemed to be a combination of the curried vegetables and the alu chole. I don't mean a "this is close" type of combination, I mean literally, they had leftover Curried Vegetables and Alu Chole so they just dumped the remains together, mixed it up, and bagged it. It's definitely an improvement over the Curried Vegetables and just a step down from the Alu Chole.
---
Taste Rankings
Here's how I'd rank the entrees in order of taste/preference:
1 – Channa Dal Masala
2 – Saag Chole
3 – Dhingri Mutter
4 – Alu Chole
5 – Vegetable Jalfrazi
6 – Curried Vegetables