MCI Pound Cake (1978) Review
By: mreheater72
Date: November 5, 2007
Here is the fourth "Cake Taste Test" aspirant, a "Pound Cake" baked by EUNICE KING'S KITCHEN, INC, SHERMAN TEXAS 75090. It was packed on February, 23 1978 (23028).
When I opened the can with the "sand paper method", the lid was pushed to inside of the can. The vacuum in the can was there, even after 29 years.
| | | |
| --- | --- | --- |
| Here the bottom side of the Pound Cake wrapped in paper: | | Here you can see the can after removing the cake: |
| | | |
Now the photos of the Pound Cake! My buddy and I ate a quarter of it – the taste was excellent an we are still alive. At long last – a cake which is edible!!
Here is the wrapper made of paper: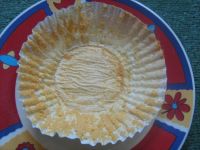 Here is the empty "Pound Cake" can after washing it with water, very good condition: