MCI Fruit Cake (1978) Review
By: mreheater72
Date: November 15, 2007
Here is the fifth and also the last "MCI Cake Taste Test" aspirant, a "Fruit Cake" packed May 2 1978 (02058) by EUNICE KING'S KITCHEN, INC, SHERMAN TEXAS 75090.
I opened the can (bottom side!) with the "sand paper method", the lid was pushed to inside of the can. The vacuum in the can was there, even after 29 years.
The appearance wasn't good – all the fruit and nut pieces had changed their colour from "normal" to black during the years! The smell of fruit was there, but it was not really appetizing! I decided not to taste it because of the unappetizing appearance!
Here is a close up of the fruit pieces: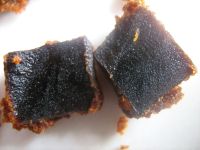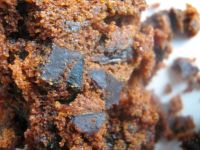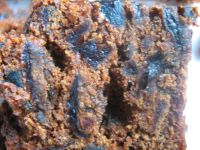 The next two photos show that even the moisture of fruit was still in the can: