---
Posts: 822
Joined: Tue Aug 23, 2011 9:47 pm
Location: USA
Contact:
Everything looks so good!!
great thread
Ration Reviews:
USA, Australia, Canada, Japan, Italy, Germany, France, China, Spain, Russia, Lithuania
Wish List:
Rations from anywhere I haven't reviewed yet!
https://www.youtube.com/channel/UCnlQPi ... kQXu87uUCA
---
Posts: 260
Joined: Sat Jul 26, 2014 10:50 pm
eBay name: gundog4314
My first attempt at Polish Bigos or Hunter's Stew. It was 80% good as I didn't have all the proper spices and frenches yellow mustard so made do with what I had. For the cabbage I just used a nearly 2 pound can of sauer kraut. I have to temper the sourness with a little liquid smoke. Bacon and the fat is the savior of this dish as it gives it that "yumminess" dimension. The keibasa and the Wasa crisp breads made everything taste awesome....or maybe that was the lemon tea and the beer I was alternating sipping on.

I will be doing this again. I think next time I'll use straight up cabbage and a little sauerkraut simmered in a pilsner beer, a dark German mustard and Canadian type bacon that the recipe really calls for.
---
That meal looks Delicious great for a Sunday afternoon summer or winter
---
Posts: 746
Joined: Sun Jan 24, 2016 7:53 pm
Location: Greater United Kingdom of Croatia
Contact:
We have similar dish but with potatoes. Beer goes amazingly good with this.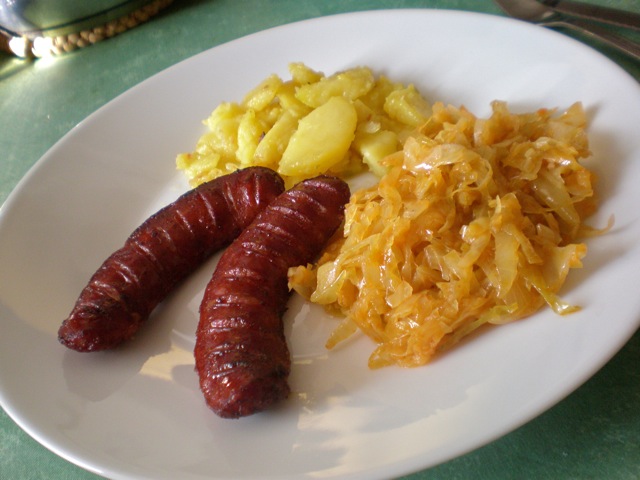 ---
Posts: 181
Joined: Fri Mar 28, 2014 9:11 pm
eBay name: noderaser
Location: Astoria, Oregon, United States
Contact:
Asger wrote:Beer goes amazingly good with this.
What doesn't a good beer go with?
I'm using my computer's spare resources to help find cures for diseases, analyze astronomical data, render 3D animations, simulate new materials and run climate models--what is your computer doing?
http://boinc.berkeley.edu/
Or ask me for help!
---
Posts: 527
Joined: Thu Apr 28, 2016 10:50 am
eBay name: piograbo.g96x9if
Location: Poland
Contact:
Gundog, I'm impressed- you must have fallen in love with bigos
. This is the first time I see that a non-European likes this dish. People often make this also half/half from sauerkraut and normal, fresh white cabbage.
You can add to this dish e.g. red wine, prunes (I mean dried plums), tomato paste, even a little honey (not too much).
Normally also prok meat (raw) can be added, of course some wild/game
Have access to: Polish, Russian, French, UK, US, sometimes other.
Interested in:Swedish/Finnish, Chinese, Korean, New Zealand , Hungarian, HDR
Ration reviews:
https://www.youtube.com/channel/UCo9H0e ... u9BsrZzK5g
---
It´s +100F over here so we need some "light" sommer cooking.

Filled eggplant for dinner:
Give it in the oven for ~45 min at 180°C (350F)
---
Awesome thread! I wish I still had some venison I harvested from awhile back! Would have been some great cooking! Maybe i'll make some bison meat or some from my uncle's farm to make guetta with?
Good luck and may your rations stay unspoiled!
---
Posts: 5
Joined: Sun Jan 15, 2017 5:32 am
Location: Anderson, South Carolina
Contact:
Fried chicken, mixed vegetables, mashed potatoes and gravy, biscuits. And not pictured, white cake with cinnamon apples.
---