Real space food Vodka STOLY for astronauts
http://cgi.ebay.com/ws/eBayISAPI.dll?Vi ... 0273978227
hmm, interesting
-73
---
Yep. We talked about those one before here:
viewtopic.php?t=1190
$20 is a lot for 100ml of vodka but it might make an interesting addition to someone's collection.
---
But you have to pay to Russia...
If it´s just to me, but why: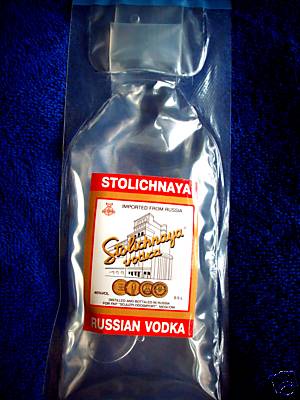 there are no Cyrillic letters on that "genuine" RUSSIAN product on it?!
Any body else concerned that they give them alcohol up there?
---
---
Posts: 288
Joined: Tue Apr 04, 2006 12:55 pm
Location: VA
I agree with Housil-

An English label likely means it's a novelty item made for commercial sale.
---
The lack of cyrillic markings is because the product used was for export.
If you buy a bottle of Stoli, out side Russia, any kind they don't have the cyrillic on them.
If you buy vodka for local consumption (Moskovkaya, etc...) their lablels and everything is in cyrillic.
Stolischnaya vodka is mostly for export....tht's why it has everything, well almost everything in english.
Probably some of the astronauts in the ISS have enjoyed the cosmonaut's drink of excellence....
Salud!...Prost!!!...Dabai!....Kampaii!!....
Enjoy!
Peace!
"Live long and prosper..."
---
---
Which is the sausage?
---
---
i bought one of thoes a while back, i got it for 11$ (thats including shipping)
---