The fine folks at
Meal Kit Supply Canada
sent me a case of their civilian MREs to review and I just finished putting up the web page about them:
http://www.mreinfo.com/civilian/mre/mea ... -kits.html
Here's an excerpt from the web page and the review section:
Meal Kit Supply Canada

is a Canadian company that imports Sopakco's civilian MREs from the United States and packages them in their own unique Canadian format. Technically called "Meal Kits" instead of MREs, these are CFIA (Canadian Food Inspection Agency) inspected and approved for distribution in Canada, which makes them the only civilian MREs that can be easily bought and sold in Canada without the buyer have to worry about shipping their US-purchased MREs through Canadian Customs and having to potentially pay import duties or even have the case of MREs seized.

The MRE menus are custom designed by Meal Kit Supply to only include the most popular entrees and sides (see Contents section below). Flameless Ration Heaters (FRHs) are optional and they sell cases either with or without FRHs included in each MRE meal bag. Each meal averages at least 950 calories.

The convenience of having locally-available civilian MREs does come at a price. In this case, that price if $119 CDN per case plus sales tax and shipping. For ordering information, please see their ordering page:

https://secure.mealkitsupply.com/en/ordering.php

.
Meal Kit Supply Case
Here's a closer look at a Meal Kit Supply case. Notice how the text of the case is in both English and French. Also notice how the ingredients for each entree, side, dessert, jam, etc. are also listed on the side of case in both English and French. The listing of ingredients is a unique and especially nice touch!
Front and back of case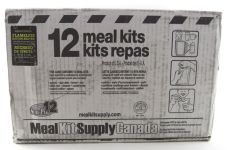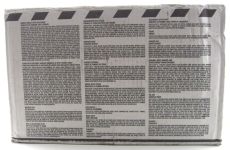 Sides of case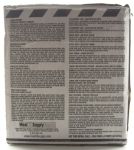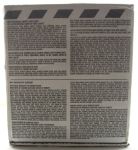 Bottom of case - notice the date code (7334) and the great explanation of how to read it (3rd picture)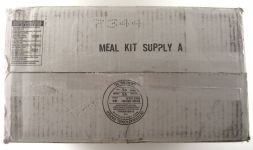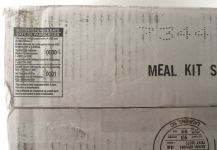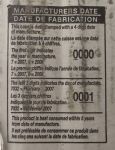 MRE Review
Here's a quick look at the contents of a Meal Kit Supply MRE:
MRE bag - looks exactly like a Sopakco Sure-Pak 12 MRE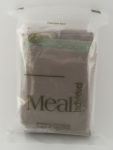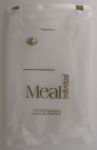 Contents and accessory pack of the Penne Pasta MRE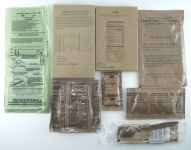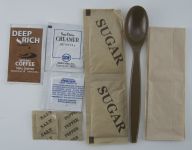 I guess they don't make wet naps with the Canadian flag on them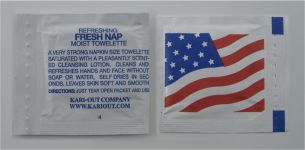 Penne Pasta with Vegetable Sausage Crumbles in Spicy Tomato Sauce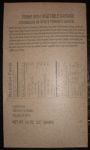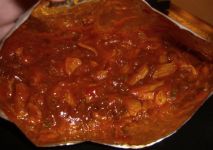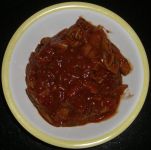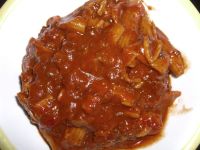 Wheat Snack Bread and Grape Jelly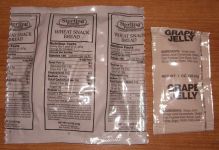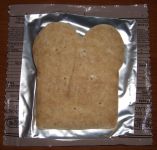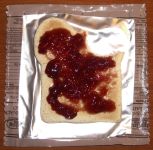 Caramel Apple Ranger Bar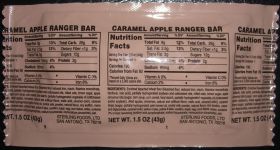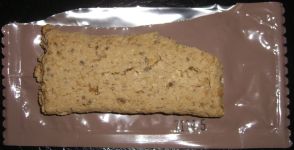 Pears