I had my very first Norwegian ration today and want to share it with you.
I deceided a:
Pasta w/tomato sauce
Inside the bag:
Freezdried entree, crackers + jam, tea bag, drinking chocolate, chewing gum and hand cleaner.
Smart thing No1: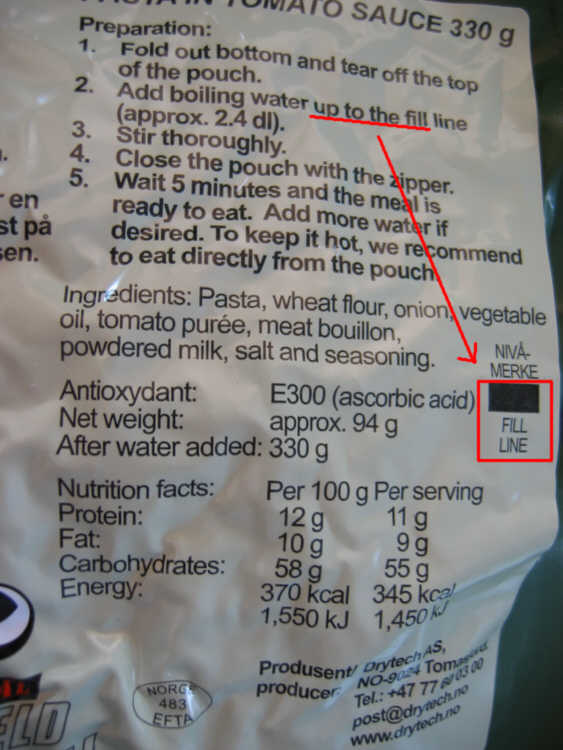 View inside the bag:
Smart thing No2:
Zipper!! Smartes freezdried food pounch I ever saw!
After soaking with hot water
(on a plate for better display)
The color was "orange" indead. The taste was "OK" to me. Nothing "spectecular", but I would have it again!
A "handicap" is, you need hot water allways! If you had ever mad a hot beverage with a canteen cup on a tommy cooker, you know what I mean! A MRE, EPa, RCIR etc. could be eaten cold in a pinch. But you can´t eat that dry powder. Same problem with German EPa leicht freezdried entrees.
The entree is a energy bomb:
Just the entree has same amount of calories (~1200kcal) like a whole MRE
The crackers & jam
Have been soft and sweet, like a cake base. Not this hard/crsipy you know from MRE crackers or "worse", EPa "tank sheets".
Now a curious thing to me but I bet, Norge can explain that for me/us:
The drinking chocolate is the same as used in brit rat packs.
Nothing suspicious yet.
It´s Danish made.
OK, if they like it - but not unusal yet.
I don´t know why the description is not in norwegian on it.
Maybe it´s very similar to danish/english language.
BUT, why is it on czech, hungarian and russian language on it?!
For better feeding POW´s?
Norge?!?!?!