About a two weeks ago a friend of mine gave me an MRE to try out (2006 #23: Chicken w/Cavatelli) and I was impressed. I live in a fairly rural area and with winter approaching I decided to prepare for the inevitable power failures and anything else the winter season delivers onto our region with a sledge hammer. I also go camping a number of times each year and it would be nice to lose a pack weight. Clean place in the basement, First Aid, Water, Emergency heat, Blankets, and other assorted items. The only thing left being food. I shopped around and got a great deal on a Sopakco Sure-Pak 12 and it arrived today. So here on my living floor is my first ever MRE case.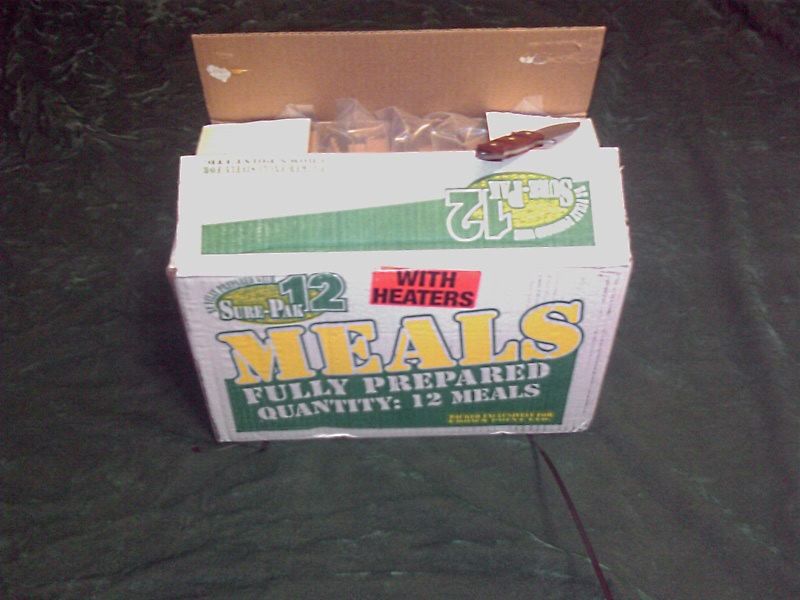 I ordered with heaters. Cold winter, hot meal. Package came with plastic binding around it and was undamaged.
Just like mom use to make.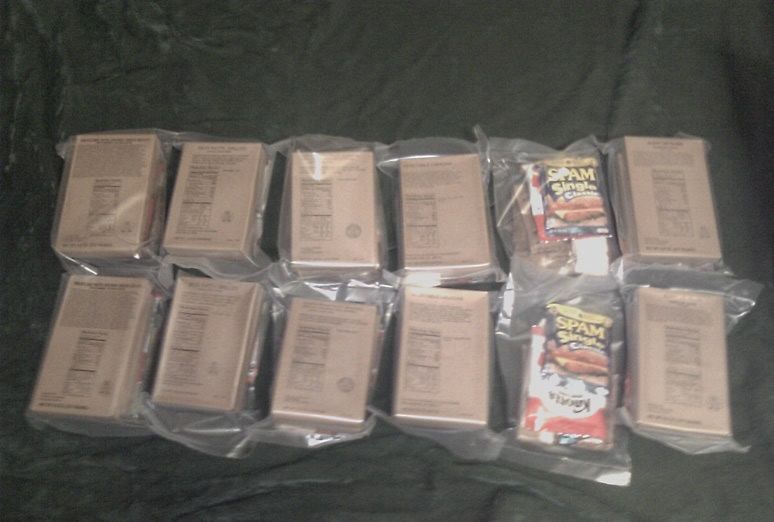 As advertised, 6 menus 2 of each. Hmm... two of these meals don't look like the others.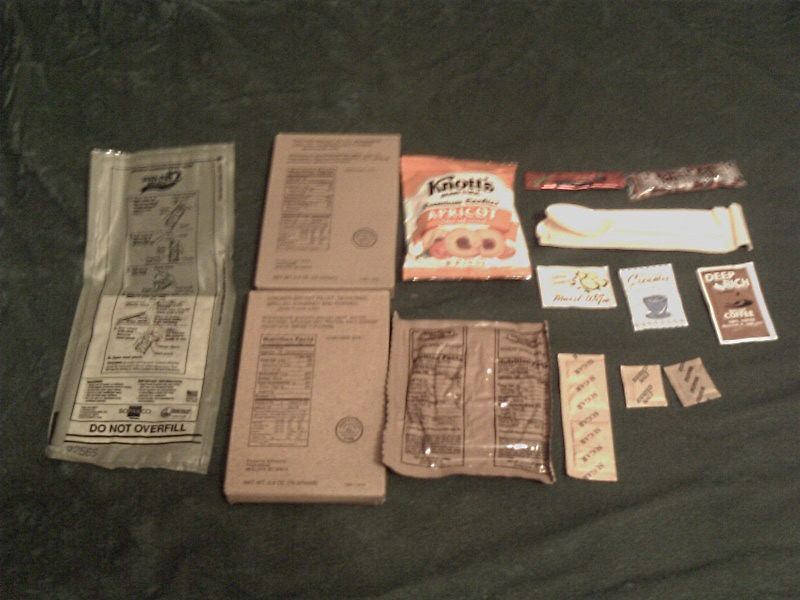 Seeing how I liked the Chicken with Cavatelli MRE I decided to test the Chicken menu first. There is a big difference between this and the military MRE I had the first time. First no matches or beverage hot beverage bag, second two there is two main entrees, third there is a difference in the packaging on a few items.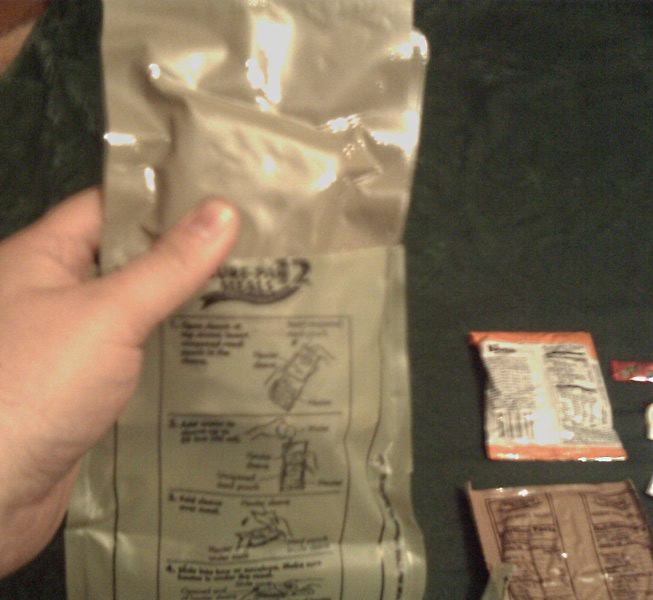 Now for the hard part. I am pretty sure these Heater bags are meant for only one entree. After a little work I managed to get it to fit.
End results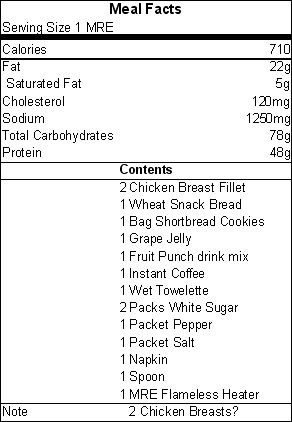 I added up the nutritional information. Jelly is estimated on same serving size as the stuff in my fridge. Salt, Creamer, Sugar packets not included.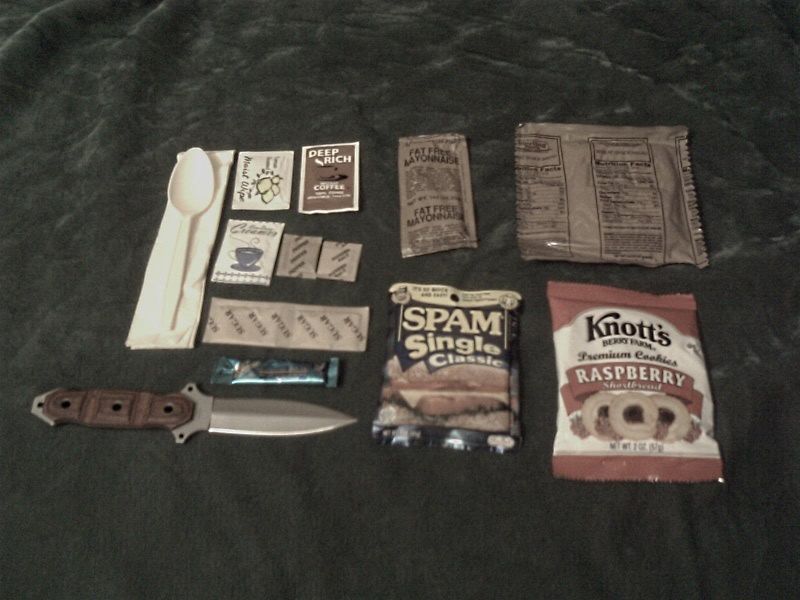 Now this is a little bothersome. One of my menu items is simply called SPAM. Now if I had seen it in the standard MRE pouch I wouldn't have given it a second thought, but it came in the standard SPAM singles package. I am not a SPAM fan, but to make matters worse notice anything important missing? That's right no Flameless Ration Heater. So the menu items are shortbread cookies, spam, wheat snack bread, and fat free Mayo spread. Knife not included, didn't realize it was in the picture till I uploaded it.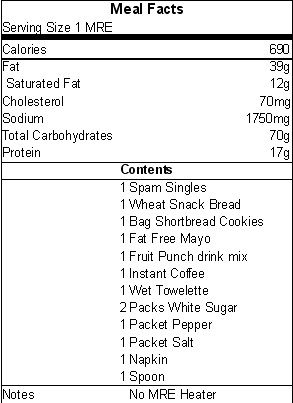 Information on the SPAM Menu Item.
Other Menu Entrees in Case
Meatloaf
Beef Patty
Veg Lasagna
Sloppy Joe
These are the only two I have tried so far, but I think in the future I may try to get Military MREs they looked to be a bit better built. I still don't understand why they don't include matches in a few of these. If three meals out of the whole case had matches I wouldn't complain, but I can see how they would be useful. With these two menu options two a day would only be around 1400 Calories or 2100 Calories for three meals. This is likely enough for me just sitting in my cold basement during a extended outage, but is far lower than the data on other MREs listed on this site.
This has been a novice's trek through his first case of MREs.