I recently purchased two First Strike Individual Rations from Treesuit. They arrived and I opened one to take photos. Since I've eaten quite a few of these items in the past, I didn't actually eat any of this. I resealed it in the bag afterwards. Some of the other fine reviews on the board will show you what the food items look like and describe how they taste.
These are very close to the military's First Strike Ration. My first impression was of *how much food* there was in one of these things. I weighed them and they came in at about 2 pounds 13 oz each. As others have described, there is plenty of food in one of these things to keep you going for 24 hours (I will likely have leftovers). Food bars, simple handheld items, pastries, and other such items will keep you well fed with almost zero preparation - "eat and go". A few of the items didn't have calorie counts so I had to guess a little, but the total of the ration is around 3000 calories.
Unfortunately after I resealed this in the bag, I found that not all of my photos came out of the camera intact, for whatever reason... but this is what I have: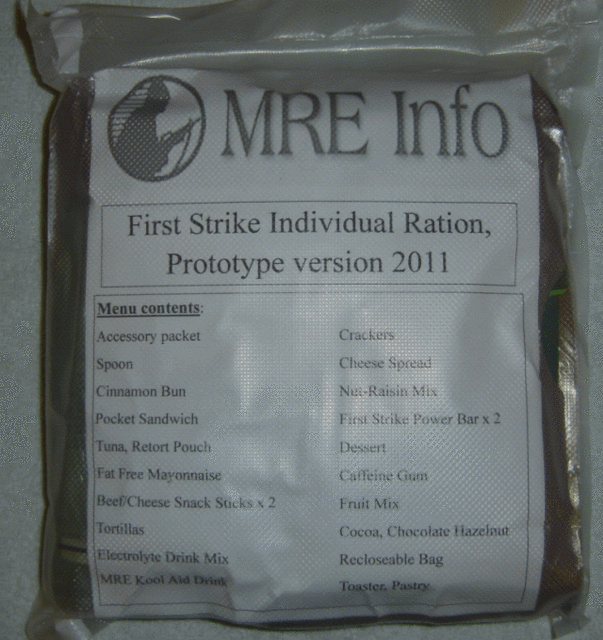 The ration in its outer wrapper, which has been vacuum sealed. There is a label showing the contents, and another ziplock back inside the outer bag for more protection. The weight of this unit is about 2 pounds 13 ounces.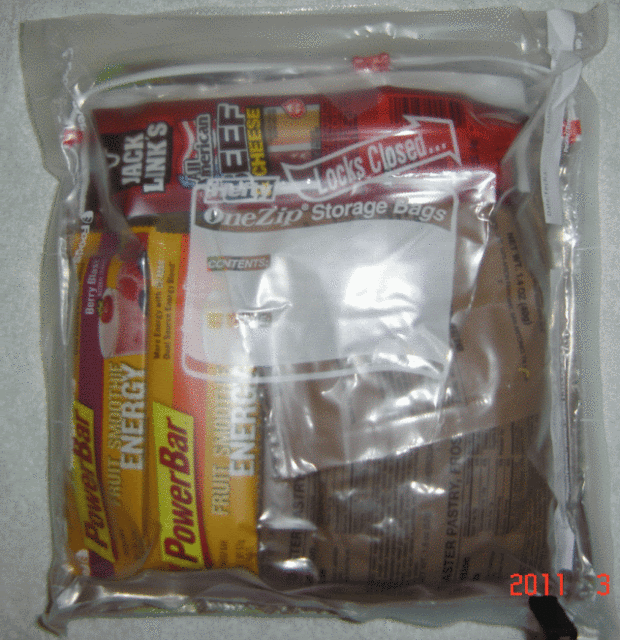 The back of the ration, which shows some of the inner items and also the bonus ziplock bag.
Drinks and condiments, including two accessory packs with coffee, a spoon, a chocolate hazelnut mocha, a squincher, a raspberry drink mix, and a pack of Stay Alert caffeinated gum.
Tuna, tortilla wraps, and mayo (2).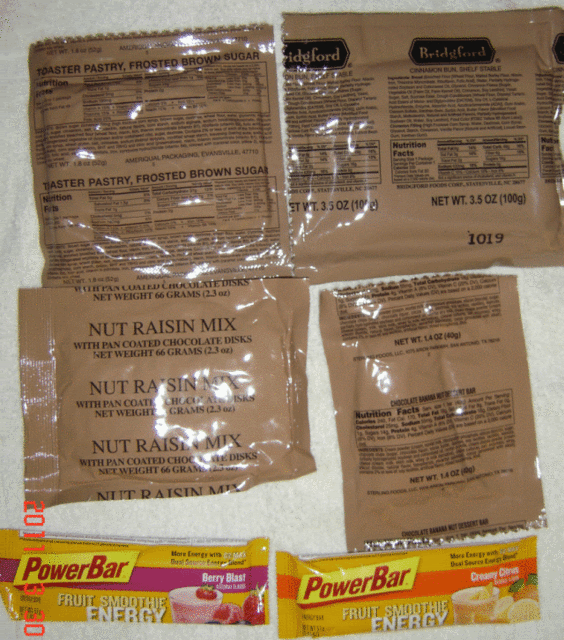 A pop tart, a cinnamon roll, nut raisin mix, a dessert bar, and two power bars.
Crackers, jalapeno cheese spread, mixed fruit, flameless ration heater, honey BBQ chicken sandwich, and two Jack Links meat and cheese packets.
I think I got everything; if not, the blame is on me and not on Treesuit! Everything was just as described. I would definitely buy these again; in fact, I probably will soon. It's a great value and a compact package. A good addition to an emergency kit or 72 hour bag.