Hi guys,
today I want to show a MCI from January 1961: HAM AND LIMA BEANS
All contents were in perfect condition, no bulging or leaking, no corrosion
!
Here are some photos:
The MCI cardbox (the stains
on the left side I guess is from another ration, because here no can was leaking) and the contents: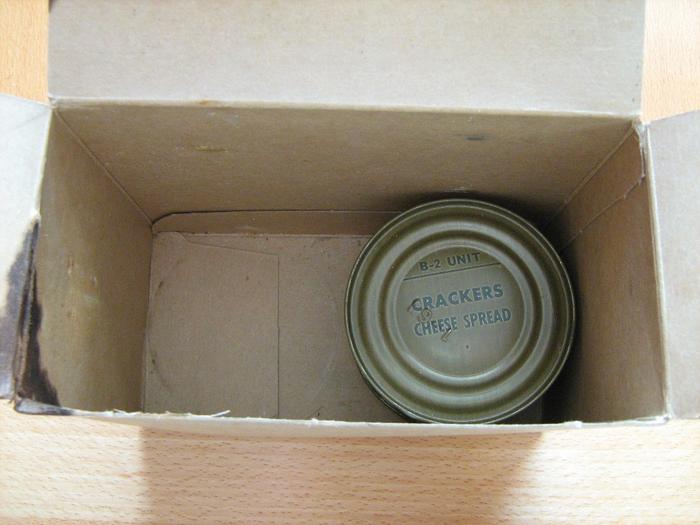 All contents and one glance:
HAM AND LIMA BEANS IN JUICES (stamped EST.945 2421) 24. February 1961???:
B-2 UNIT CRACKERS CHEESE SPREAD (stamped 1-61):
DATE PUDDING (stamped on side of can 18.1.1) 18. January 1961???:
ACCESSORY PACKET (COFFEE-INSTANT, CREAM-DRY, SUGAR, CIGARETTES, MATCHES, CHEWING GUM, TOILET PAPER, SALT):
White PLASTIC SPOON in wrapper (no marking existent except for a little "3"):
CARDBOARD DEVIDER, old pattern:
HAM AND LIMA BEANS IN JUICES after opening with the "abrasive paper method":
Good smell and appearance
, the ham looks really good (no taste test
by a 48 year old ration, but I guess it still would be edible)
The empty HAM AND LIMA BEANS can, no corrosion, perfect
!!!
The perfect condition of that 48 year old ration is a little miracle
!
So long mreheater72