I just put up a review of the "Beef Soup" component of an MCW here:
http://www.mreinfo.com/reviews/mre/mcw- ... eview.html
I'll include a copy of the review here, too:
MCW Beef Soup
Author: kman
Date: December 15, 2008
In my latest delivery from
TheEpicenter.com
, they threw in a packet of "Soup, Beef Flavor"; that looks like's from an MCW (Meal, Cold Weather). Today was a cold day and soup sounded like a good idea so I thought I'd give it a try.
Here's the package. It has a date code of "5021" so that puts its production date at January, 2005 - so it's almost 4-year old soup.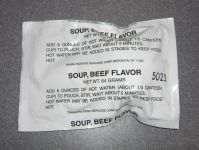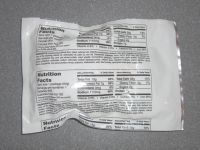 The instructions read:
Add 8 ounces of hot water (about 1/3 canteen cup) to pouch, stir, wait for about 5 minutes. Hot water may be added in stages to keep food hot.
Here are the contents in a bowl. To my surprise, this looks like Ramen Noodles! I was expecting your basic "beef soup" but instead, this looks like your standard 10 cent package of Ramen. In fact, now that I look at the
MCW menus
, I can see that Menu 3 has "Soup, Noodle, Ramen, Instant as a component. Sure enough, that's what I have!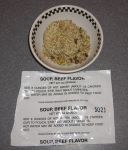 I added 8 ounces of water and let it sit for a while.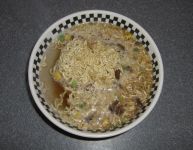 Here's the final product. If you've ever had Ramen Noodles, then you already know how it tastes. It's basic noodles with a light beef broth and a few suspicious-looking chunks of (hopefully) beef. The soup didn't have a whole lot of flavor but wasn't too salty and so overall was a decent addition to my lunch.