Hey Guys,
I'm an occasional lurker and thought I'd throw up some pics I took a while back for the ARFCOM survival forum.
These are canned by Oregon Freeze Dry, or Mountain House to us, for the .military. They are generally understood to not be meant "for the troops", but for higher ups and for long term storage in hardened facilities like NORAD and conitinutity of government etc. I've only ever met one G.I. that had ever heard of them, and he only knew of them when he appropriated a can while deployed-in his words, they definitely weren't meant for the enlisted...
I felt this would be a good post for this forum because, hey, we're all of like mind and it just happens that there is a fairly large supply of the pork chops and cottage cheese that has been suplused out recently and is on the market. I know that a lot of you guys balk at the idea of spending roughly $150 on a case of ANYHTING that only has one flavor (LoL), but we are talking about nitrogen packed, laquer sealed cans of meat that will outlast all of our natural lives. Get on it while you can! I personally rate these meats as being an 85-90% facsimile of a real steak or pork chop.. They are damned good. I took the remainder of the can to my parent's house and my Dad BBQ'd the rest of them for my family. The only ones who knew they were freeze dried until after they were eaten were my Dad, my self and one of my sister's boyfriends. Everybody like them, but when asked they noted that the steaks were a little dryer than Dad normally makes.
Anyway, Here Goes:
"Guys,
I'm a sucker for a good Pork Chop or Steak dinner, so I can imagine few more appropriate foods for post-apoclyptic world comfort food than Freeze-Dried Pork Chops and steaks. These cans will be familiar to those who have purchased #10 cans of Mountain House Freeze-Dried foods as they are made for the .mil by Oregon Freeze Dry, the parent company for Mountain House brand. Like the MH product, they are nitrogen packed and laquer sealed so they last nearly forever. Unfortunately, they are not sold to the public so unless you buy them as surplus they are hard to get and expensive when you do.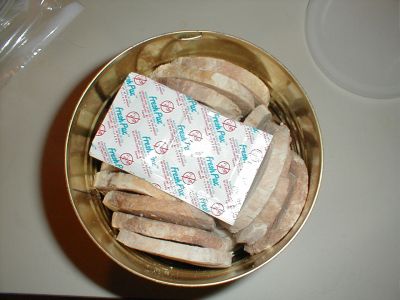 This is what you see when you open the can. There is a very pungent aroma, almost like Pork-Rinds and Cat Food. The Chops are about 2-1/2" or so in diameter and 1/2" thick and are in a raw, uncooked state. The meat has a little marbling, and precious little fat around the edges.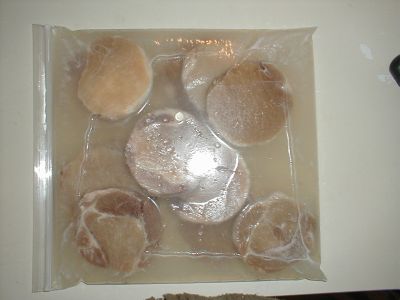 To rehydrate, they reccomend 20 minutes covered in a single layer with warm water. I put 12 of the medallions in a large ziplock with a teaspoon of salt, and let them sit for 30 minutes. They would probably be GREAT with a Marinade as you could rehydrate them in a water/marinade mix. It was really wierd to feel the "chops" go from crispy hockey pucks to "meat" in the bag. The water brings back the texture you would expect of raw meat, and pouring out the water you'll notice the blood and oil in the water. As my bachelor-pad is bare, I didn't have any Marinade, but I did have Shake 'n Bake!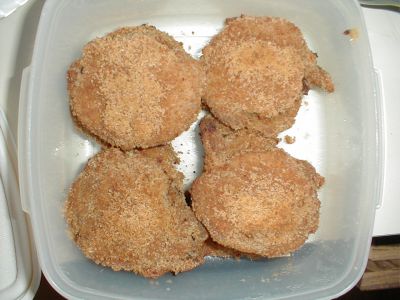 Here's the finished food after being baked at 425deg. for 18min. They should have been cooked a little less, and hydrated a little longer as the meat was a little dry and hard in the center-a complaint I've heard of MH's Chicken or Hamburger and Mashed Potato pouches for hiking. Taste-wise, they were pretty good but have a slight after-taste which I attribute to not soaking for long enough.
There are only two commercial sources for these that I know of. The first is The Freeze Dried Guys, who operate an Ebay store where they sell surplus .mil food. The bad thing about this outfit is that they only sell by the case, at $150 per, and the shipping is about $25. I didn't want to spend that kind of money without trying them first and was lucky to find that The Country Store (
http://www.healthyharvest.com/index.php ... th=168_235
) had them in individual cans for $30 so I was able to try them out.
In all, I give them a thumbs up. I'll have to prepare them per the directions and see if they are more like store bought chops, but they were very edible as reviewed.
Dave"
And:
"Hi Guys,
This is a continuation of this thread.
What we have here are Freeze Dried Steaks, as packaged by Oregon Freeze Dry for the military. Like the Pork Chops in the above review, these are in an uncooked state and must be prepared before consumption-unless you are one of those sicko's that likes their dead cow just dead enough that it doesn't 'Moo" anymore.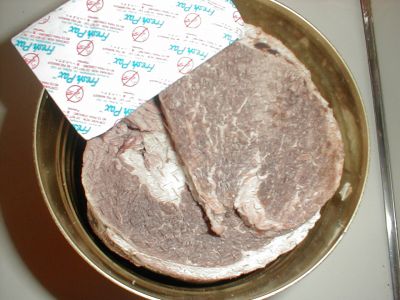 The can weighs 1 lb, 4oz. and contains 11 steaks. The steaks are 5" around and about 5/8" thick, total weight of meat for the can once reconstituted is about three pounds of meat.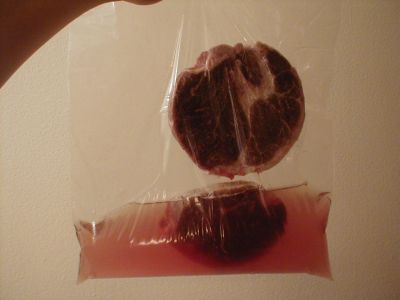 To prepare these, a large plastic ziplock bag was used. Based in lessons learned with the Pork Chops, I put only enough water in the bag to cover them up rather than "Cover with Ample water" as the instructions suggest. This means less of the blood leeches out and helps them keep their flavor. I also allowed them to rehydrate for 50 minutes rather than the 30 recommended. In meat with a lot of marbling it takes areas that are separated from the other meat with walls of fat a little longer to soften up because they are only exposed to water on the top and bottom of the steak. The recommended recipe for these is to dip them in flour and griddle them for 2 minutes per side.
For this review, I want to throw a quick word in for these two: The Coughlan's fold up camp stove and Camp Heat. They make a great pair! The stove folds down in a 5" square about 1/2" thick, and you can put a stove, 3 hour can of fuel, metal cup, and have plenty of room for a few bags of oatmeal, soup, a lighter, and matches, into a single USGI MOLLE Medic pouch with room to spare. The cans of fuel are sold in a 3 hour and a taller8 hour size, and are wick adjustable for output and burn time. I can't comment on how long they actually burn, but the can in the pics is from last year and has been used to cook over a week's worth of Mountain House meals at maybe 8 minutes apiece, fried up a dozen pork chops at 4 or 5 min. and boiled water a few times for oatmeal. I've never adjusted the wick, but I'd estimate burn time to be about at the 3 hour mark based on what the can shakes like. I'd say these are a great replacement to Sterno for several reasons. First is that the can is made of steel rather than thin aluminum-Sterno evaporates, so if you dented your can the seal usually broke and you wound up with an empty can when you needed it. This is important for a BOB that gets knocked around. Further, the lid screws on and seals instead of pressing in. Second reason is the adjustable flame. Third reason is that it burns alot hotter than Sterno. When I built my BOB I went for a good multi-fuel stove for it's burn time and versatility with whatever liquid fuel might be available when things got scarce. To be honest, I prefer to use Camp Heat over the Whisperlight International! While the BTU output can't come cloe to matching what the multi-fuel stove can kick out, even the small can of Camp Heat/Magic Heat will cook more meals than the multi-fuel, and there's no pumping, cleaning jets, wiping off a sooty stove, or stuffing that big fuel bottle and gangly storage bag bag into your BOB and hoping the pressurized bottle doesn't leak over all of your important gear. Obviously the two types of stoves have their place in the SHTF preps, but if I'm on foot I'm not doing anything more with a stove than boiling two cups of water at a time, and you can do a shitload of that with a 3 or 8 hour burn time with Camp Heat.
Then there's the cost difference: Camp Stove $9, 8 hour Camp Heat $2.79 at the grocery store. Multi Fuel stove and bottle: $90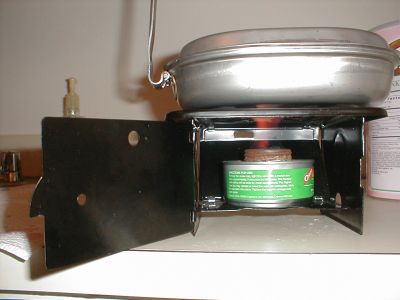 Ok, back to steak:
Here we are rehydrating. This is about as bloody as the water gets after 50 minutes. Meat is soft but not as "springy" as fresh meat. Straight out of the can it has that cat food/fish food I didn't like with the Pork Chops but it's to be expected.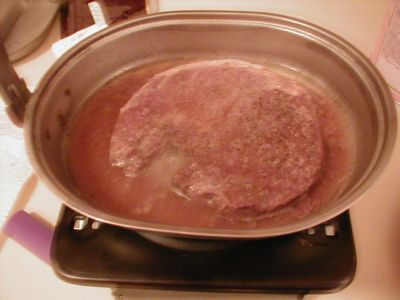 Add a little Salt and Pepper, turn a few times-they cooked really quickly: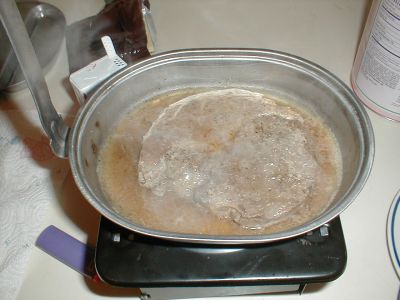 MMMMmmmmm!!!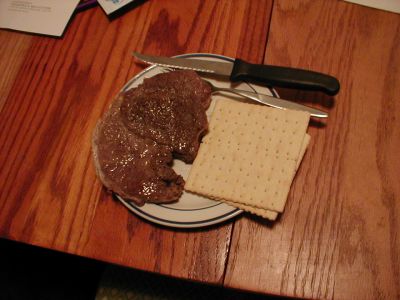 Taste wise, these ended up being Excellent! Normally I prefer Pork to Beef, but these were better/more 'normal than the pork chops were, and I really like them. The fat marbling reduced well, and the steaks didn't shrink a whole lot whereas the chops did. I'm not real big on red meat, but this meal was filling and delicious I can imagine a meal with these steaks, some seasoned instant mashed potato pouches and something on the side would be a real treat after a period of eating soft freeze dried food or your rice/bean/lugume stores. I overdo red meat, but it still wasn't tough to chew. Definitely real food in this can..
Big thumbs up.
Dave