This was my first meal afloat this year, and my first Menu #19 Beef Patty, Jalapeno Pepper Jack. This one was by Ameriqual and was dated 4029, or Jan 29, 2014. It's been in my inventory for two years, so I chose this one for today's lunch. First, I stripped out some of the contents for another time. I didn't take the cherry/blueberry cobbler or the accessory pack. This is kind of a skimpy meal, with no snack items to enjoy while the entree heats up. That's fine, though.
I started the FRH with some lightly salted water (it worked great) and while that heated, I prepared a drink and softened the cheese (which was the plain kind, not the bacon-flavored). Following the instructions, I "kneed" it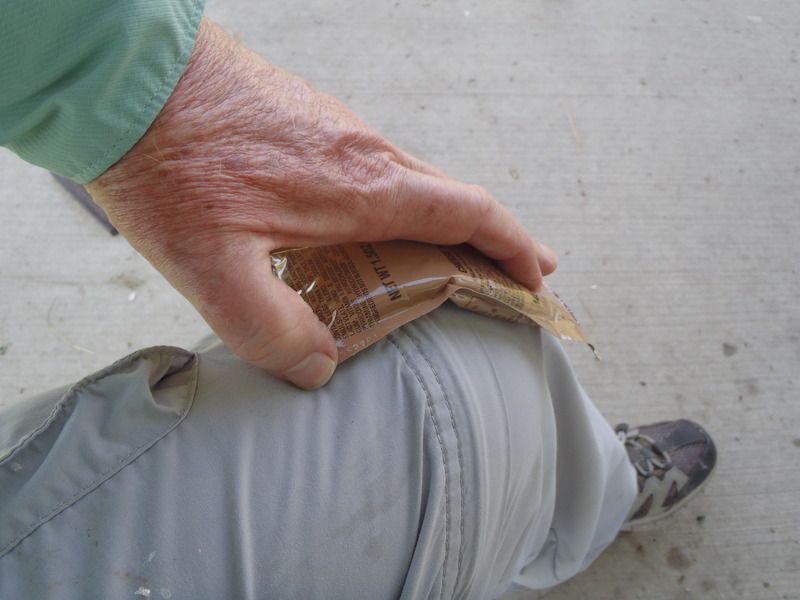 By the way, this is a superior way to do it, pun notwithstanding...
Here's the "GI Cheeseburger" on the twin pack of wheat snack bread
Aside from the dry bread, this isn't a bad cheeseburger. The meat has a definite but not overwhelming bit of heat and smokiness. The cheese adds its usual smoothness and salty tang. If you're in the middle of nowhere, or the middle of a lake, it's the best burger around. No pictures, but the oatmeal chocolate chunk cookie was a great dessert to top this off. I look forward to the cobbler at a later time, and another one of these meals.