Over in the Members Forum is a thread about "Operation MRE" where we managed to obtain some cases of MREs from 2004 that were being used as emergency preparedness supplies by a local city. The city decided to dump these MREs since they were past their inspection dates and I offered to help get rid of them. I figured these MREs would great to check out to see how long MREs could hold up given that they were stored in a hot Southern city for 3+ years in an un-airconditioned environment.
I just ate my first MRE from this batch. No. 20 - Spaghetti with Meat Sauce is the perfect MRE to use for longevity testing because it contains the two parts that go "bad" the quickest - applesauce and cheese spread.
So here's my review...
2004 MRE No. 20 - Spaghetti w/Meat Sauce
Date Packed: August, 2004
Reviewed on: June 14, 2008
The contents of the MRE are:
Spaghetti w/Meat Sauce
Applesauce
Wheat Snack Bread
Cheese Spread
Chocolate Dairyshake
It doesn't contain a traditional dessert like a pound cake, but the Dairyshake weighs in at a whopping 470 calories so this is really all you need to round out your meal.
The spaghetti entree itself was perfectly good. I used the Flameless Ration Heater to heat it and according to my taste buds, it was the same as any fresh MRE Spaghetti. Mrs. Kman was also helping with the review and her comment was, "Yep, tastes like Chef Boyardee" (which is a glowing review for an MRE coming from her).
The Applesauce was another matter. As you can see from the pics above, the applesauce was a bit darker than usual. I tasted it and didn't think it was "bad" but it definitely wasn't fresh. Mrs. Kman, however, had another take on it...after one taste, she said "It tastes bad...kind of sour." So there you have it...I'm probably a little more forgiving on MRE tastes but Mrs. Kman nailed it. The applesauce didn't hold up over time.
The wheat snack bread was as good as it always is. The cheese spread, while a little darker than usual, tasted the same to me as it always does. Mrs. Kman isn't a fan of cheese spread and she refused to try it. But the cat was interested and as seen below, he didn't have any issues with it.
Finally, there's the Chocolate Dairyshake Powder. I'm always amazed that they only want 6 ounces of water for this thing. I did use six ounces in the pictures below and it produces a very thick, very chocolatey shake. I could probably have downed the whole thing in four or five swallows - but as packed full of calories and sugar as it is, I would have been buzzing around the house on a sugar high. Instead, I added another 6 ounces of water to thin it out and then it was more like a can of SlimFast (minus the "Slim" part, of course) :-) Taste-wise, I thought it was pretty good. Mrs. Kman liked it, too, but was overwhelmed by heaviness of the 6oz. version.
My tests vs. Natick/DSCP tests
On the DSCP's website, they have a section with photos of heat and time stressed Applesauce and Cheese Spread. I've added those photos to the web site here:
http://www.mreinfo.com/us/mre/applesauce-longevity.html
http://www.mreinfo.com/us/mre/cheese-sp ... evity.html
Here are some sample photos from the page: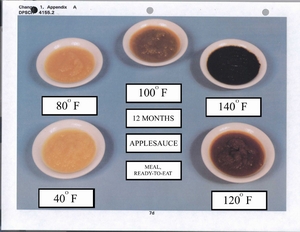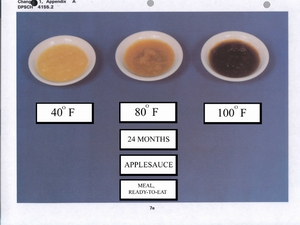 Comparing my applesauce (above) to these pictures, I'd say my applesauce follows along with the pictures of applesauce stored at 80 degrees Fahrenheit for 3-6-12-24 and 36 months.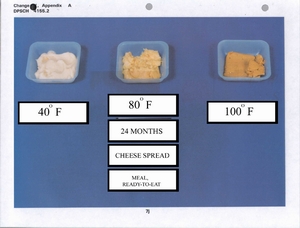 The cheese spread was a little better - it matches the photos for 80F also - but only up to 24 months. The 36 month pictures don't look anything like my cheese spread (mine looks better).