I just put up a new review on the main website but I'll repost it here for your easy-viewing pleasure:
http://www.mreinfo.com/reviews/mre/new- ... views.html
New 2008 Entree Reviews: Chicken Pesto Pasta and Vegetarian Lasagna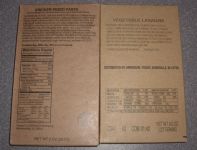 The folks over at
The Epicenter
were kind enough to send me two of the new MRE entrees - Chicken Pasta Pesto and Vegetarian Lasagna. These two entrees replace Chicken w/Cavatelli and Vegetable Manicotti starting in the
2008 MREs Menus
.
Chicken Pesto Pasta
This is a terrific entree! It's fairly simple - just noodles, chicken, and pesto sauce. The pesto flavor is strong without being overwhelming and I didn't need to add any extra salt or hot sauce. If anything in this entree could be called disappointing, I'd say it was the chicken. There was definitely plenty of chicken but it's what I would call "MRE Chicken" - in other words, the chicken chunks tasted just the the chicken in every other chicken-based MRE. For some reason, the cooking/retort process doesn't actually cook the pesto flavor into the chicken. This is more of a "chicken breast chunks with pesto pasta" entree. But it's still extremely tasty and now ranks high on my list of favorite MRE entrees.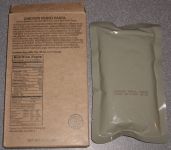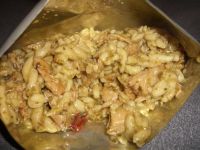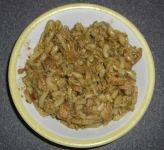 Vegetarian Lasagna
This is definitely a great replacement for the Vegetable Manicotti. This is one of the few (maybe only?) MRE entrees that actually looks like the real thing when it's still in its freshly-opened form (see the second picture below). Once you stir up the lasagna in the pouch (see third picture), it stops looking like a nice square of lasagna and looks more like pasta with sauce.
As for the taste, while there appears to be a lot of tomato sauce in the pictures below, there isn't an overly-strong tomato taste. I thought I saw a bean or two in there and sure enough, after looking at the ingredients, I saw it included Refried Beans. This is an interesting inclusion to Lasagna but it does a good job of replacing the meat and offers an intriguing texture to the whole entree.
Overall, I liked the entree but wasn't crazy about it. But I'd much rather eat this one that the Vegetarian Manicotti so thumbs up to the folks at the
US Army Natick Soldier Center
who came up with this one.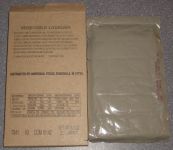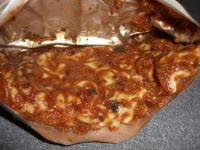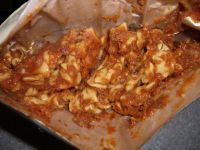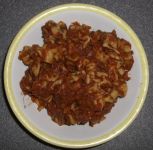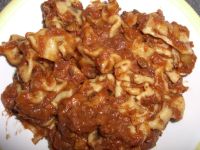 Final thoughts
I liked the Chicken Pesto Past the best and thought the Vegetarian Lasagna was ok. Completely opposite me, Mrs. Kman thought the Vegetarian Lasagna was the best with the Chicken Pesto just being ok.
The cat likes anything with chicken in it so you can guess his favorite: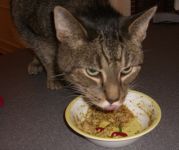 Thanks again to the TheEpicenter.com for the entree samples!